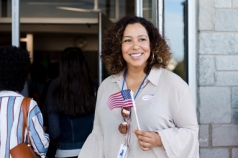 June celebrates National Immigrant Heritage Month. For more than 100 years, JCFS Chicago's HIAS Immigration & Citizenship has proudly helped individuals and their families transition from strangers in a new land to proud American citizens.
Elana Boiskin, HIAS's Outreach and Education Specialist, shared a recent success story of a family who gained citizenship. The Russian speaking couple immigrated to the United States from Belarus. The husband was able to pass the interview test and gain citizenship as soon as he was eligible, but his wife was concerned she would face more obstacles because her English was not as strong.
Eager to become a citizen as well, she was encouraged by a friend to come to HIAS for assistance with her application. She signed up for citizenship classes and naturalization interview practice, both of which were held over Zoom during the pandemic.
"After working diligently for months and attending practice citizenship interviews with her experienced teacher Judy Yublosky, she passed her test with flying colors and became a U.S. citizen," Elana shared. As a new citizen of the United States, she expressed her gratitude for the support she received from HIAS, both in the class and with her application for citizenship.
For more information about HIAS Immigration & Citizenship's programs and classes, visit our website or call 847.745.5405