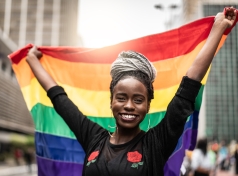 While the events that sparked the fight for LGBTQ+ liberation as we know it today get some attention, we often forget that the movement was led by trans women of color and Black lesbians. The following four women of color were key leaders in advocating for LGBTQ+ rights. These women cared for their community and fought for all LGBTQ+ people to have the freedom to live as they are.  Because of transphobia and anti-Blackness, these women often faced even more discrimination as they fought. As Pride month comes to an end, let us not forget that the struggle continues.  These women are heroes.  Their bravery and absolute refusal to accept anything less than liberation sparked a movement that needs to remember who led the charge. All Black lives matter. 
Marsha P. Johnson:
Marsha "Pay It No Mind" Johnson was a Black trans woman who helped lead the LGBTQ+ movement in New York City for nearly 25 years. She was a drag performer and sex worker who poured all of her energy into advocating for trans and homeless people/youth, sex workers, people living with HIV/AIDS, and incarcerated people. At 23 years old, Johnson was also one of the leaders of the Stonewall Riots. In 1970, one year after the Stonewall Riots, Marsha P. Johnson co-founded STAR (Street Transvestite Action Revolutionaries) with trans activist Sylvia Rivera. STAR was a shelter for homeless transgender youth that Johnson and Rivera funded by working as sex workers at night. Johnson and Rivera were often homeless themselves, so they wanted to create a safe place for trans youth to sleep at night. STAR was revolutionary on a number of levels; STAR was the first LGBTQ+ youth shelter in North America and it was the first organization in the US led by trans women of color. Unfortunately, Johnson's life was cut short in 1992 when her body was found in the Hudson River. Her death was ruled a suicide, but the circumstances surrounding her death were not investigated, leading many activists to believe that she was murdered. In 2019, it was announced that a monument honoring Johnson and Rivera is going to be built in New York City, just blocks away from the Stonewall Inn. This monument will be the first permanent, public piece of artwork in the world recognizing transgender women.
Sylvia Rivera:
Sylvia Rivera was a Latina trans woman who was a lifelong trans rights activist in New York City. Rivera was raised by her grandmother, who beat her for her feminine expression. By age 11, she ran away from home and became a sex worker near Times Square. She was taken in by a group of drag queens, and began identifying as a drag queen, herself. Rivera was 17 years old when she helped lead the Stonewall Riots; she claims to have thrown the second Molotov cocktail in protest of the police raiding the Stonewall Inn. A few weeks later, Rivera co-founded the Gay Liberation Front, a collection of gay liberation groups that fought against homophobia, capitalism, militarism, racism, and sexism. One year later in 1970, she co-founded STAR, a shelter for homeless transgender youth, with activist Marsha P. Johnson. Sylvia Rivera had a problem with the fact that the gay liberation movement was catered towards liberating gay and lesbian, white, middle-class people, so she advocated for the movement to be more inclusive of marginalized groups within the LGBTQ+ community (including people of color, transgender people, poor or homeless people, and incarcerated people). At a gay pride rally in 1973, she forced her way onto the stage and expressed her passion for including trans and other marginalized people in the gay rights movement. This became known as her "Y'all Better Quiet Down" speech, and despite the importance of her message, she was booed by the crowd while she spoke. After working so hard for the LGBTQ+ movement and being repeatedly betrayed, she stepped away from activism for 20 years. In 2002, Sylvia Rivera died from liver cancer at 51 years old. A monument will be built in New York City honoring the important work that she and Marsha P. Johnson did for the trans community. Sylvia Rivera's legacy also lives on through continued efforts for intersectional inclusion within the LGBTQ+ community.
Miss Major Griffin-Gracy:
Miss Major Griffin-Gracy is a Black trans woman who also helped lead and shape the trans rights movement in the US. Miss Major grew up on the South Side of Chicago in the 1940s and 50s, but moved to New York City in the early 1960s after facing discrimination and threats of violence for her trans identity. Miss Major was homeless for several periods of time and used sex work and theft in order to make money. Like Marsha P. Johnson and Sylvia Rivera, Miss Major frequented the Stonewall Inn and took part in the Stonewall Riots. On the first night of rioting, a police officer broke her jaw and knocked her unconscious before taking her into custody. After being incarcerated for five years, in the late 1970s, Miss Major moved to California to continue her work as an activist. She worked for a nonprofit in the 1980s and 90s addressing the AIDS epidemic, and also advocated for prison abolition. In 2005, she began working for the Transgender, Gender Variant and Intersex Justice Project (TGIJP), becoming the Executive Director. At TGIJP, she advocated for incarcerated transgender women of color who have suffered from police brutality, poverty, racism, and gender discrimination. In 2015, Miss Major moved to Little Rock, Arkansas, where she continues to advocate for the transgender community. In Little Rock, she founded the House of GG (the Griffin-Gracy Educational Retreat & Historical Center), a retreat house for the transgender community with programming on survival skills, healing, advocacy, community organizing, and more. To learn more about Miss Major and the important work that she's done for the trans rights movement, make sure to watch the documentary Major!
Stormé DeLarverie:
Stormé DeLarverie was a butch lesbian and activist born in Louisiana in 1920. She had a Black mother and a white father; her mother was her father's servant in her home. Growing up biracial in the South was very challenging, so DeLarverie moved to Chicago at 18 and came out as lesbian. She co-founded the Jewel Box Revue, North America's first racially integrated drag touring company, where she worked for 14 years. DeLarverie sang in the shows as the only drag king, always wearing a white tuxedo. Stormé DeLarverie was at the Stonewall Inn the night that the riots began, and is said to have started the uprising. When the police were raiding the Stonewall Inn, an officer shoved DeLarverie. She punched him in the face, which resulted in four officers attacking and handcuffing her. When one of the officers hit her in the head with his baton, the rioting began. Because of DeLarverie's instrumental role in igniting the Stonewall Riots, she has been called the Rosa Parks of the gay community. Her activism continued for the next 30+ years working as a bouncer at New York City lesbian bars and volunteering as a street patrol guardian of lesbians. She was legally armed and protected lesbians and lesbian spaces at all costs, continuing this work into her 80s. In 2014, DeLarverie passed away at 93 years old. Stormé DeLarverie is one of the 50 LGBTQ+ leaders recognized on the National LGBTQ Wall of Honor at the site of the Stonewall Inn.
Last month, the Supreme Court ruled that LGBTQ+ people are protected against job discrimination based on their sexual orientation or transgender status. We have a long way to go before we achieve true equality for LGBTQ+ people, but this is a huge victory. We have these leaders listed above (along with many more!) to thank for wins like these. Trans women of color were the backbone of the LGBTQ+ movement, and without their activism, places like the Brave Space Alliance, the first Black- and trans- led LGBTQ+ Center in Chicago, might not exist. So, next time that you celebrate Pride Month by going to a Pride Parade with your friends or wearing a rainbow t-shirt, remember the historical context behind the movement. Don't forget that the festive parades that you attend now started as angry protests. Celebrate how far we've come, but don't forget the sacrifices that our LGBTQ+ ancestors have made for us to be here.