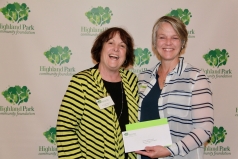 Congratulations to Debra Mier, Kelly Grover, Ellie Molise and the staff of Response for Teens' Operation Snowball program, who are recipients of a $5,000 grant from the Highland Park Community Foundation (HPCF). Response for Teens is among 35 agencies that were awarded HPCF grants for 2017. This year's grant will allow Response for Teens to serve 40-50 students from District 113 in the 2018 Operation Snowball Program.
HPCF was established in 1992 at the request of the City of Highland Park to build and maintain a permanent endowment fund. The fund serves to support and expand the services of social service, cultural, educational and environmental agencies in Highland Park and Highwood, as well as nurture the early stages of new and innovative programs.
Response for Teens, a program of JCFS Chicago, empowers adolescents and young adults, ages 12-24, to make healthy life choices. Currently, Response for Teens provides counseling, sexual healthcare services, and outreach programming on a variety of topics in middle schools, high schools, camps, synagogues, and community centers. Response for Teens also offers parent education and support, and leadership development opportunities for students, such as Operation Snowball.
Planned and led by teens for teens, Operation Snowball is a fun and intensive weekend retreat that gives emerging teen leaders the chance to connect with students from all over Chicagoland and hone their leadership and peer education skills in a relaxed, supported setting. With support from Response for Teens staff, teen leaders facilitate a weekend full of workshops on issues important to them, including diversity, leadership, healthy relationships, social justice, and many others.
For more information visit Response for Teens and Operation Snowball.