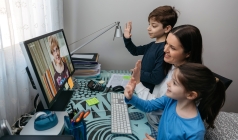 Lisa Ehrlich-Menard, M.Ed., Manager of Community Education, JCFS Response for Teens
Challenged with a generational gap, technological gaps, and screen time overload, grandparents nonetheless want to spend time with their precious grandchildren.  Here are some tips and tools that I think can help you be together while we're limited doing so in person.
Schedule time.  Kids are on screens all day for school.  Make sure that they have spent some time outside or had a chance to move their bodies before you connect, so they are ready to be with you!
Let your grandkids teach you how to use devices.
Let your grandkids take the lead in how to communicate. 

Talking on the phone is difficult for many kids today.  Ask if they prefer to talk or use Zoom or Facetime.
If a kid wants to make funny faces using filters, but not talk, play along! 
If a kid wants to take you through the house to show you something, but the zoom movement is making you motion-sick, close your eyes and ask them to tell you when the wild ride is over!
If a teen doesn't want to be on video, send memes back and forth via text messaging.  Ask them what they have been into lately.  (My daughter loves anime, my mom doesn't understand it at all, but she lets her explain the plot to her and asks questions.)

Get the same book and read together.  "Sit" together online or set up a time to discuss it.
Think about the fun things you do together and make it Zoom or Facetime-friendly:

Art project? Baking project? Send materials and do it together.
Karaoke over zoom.  Or just sing!
Fashion shows (you can create themes like Project Runway). Grandparents can participate or judge!
Plan a scavenger hunt that has the kids finding things that are meaningful to them.

Find different questions to ask other than, "What's new?"  Nothing is new these days! 
In addition to these ideas, here are some apps that your grandkids (grade school and up) are probably familiar with. 
https://houseparty.com/ - can be used on a phone, iPad, or computer
https://www.bingomaker.com/web-app/free-virtual-bingo-game/ - allows you to make a bingo card
https://www.netflixparty.com/ - will help you set up a watch party for Disney, Hulu, Netflix, and HBO. It is better than trying to turn the movie on at the same time because it is synced and will pause for everyone watching when one person needs to get up (for the bathroom or snacks!). It opens a group chat function so you can chat during the film. I recommend that you also have at least one device (smartphone or iPad) that you can Facetime or Zoom on.  That way, you can talk while you're watching. 
Sometimes your grandchild(ren) won't be responsive; you can keep connecting though!
Send pictures to older kids – ones you've taken recently or from the "old days" when you and their parents were young. 
Record (video or audio) a good-night message, song, or a story reading for little children.
Suggest one of the ideas described above. 
While we all long for the return to normalcy of hugging and playing and sharing meals, today's technology allows us to find ways to spend time "together" until we can be together once again.