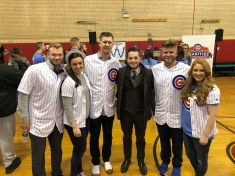 The Therapeutic Day School of JCFS is one of 110 Chicago-area schools that received brand-new sports equipment to help support physical education programs. The Chicago Cubs and national nonprofit Good Sports donated the equipment as well as hosted an event to sort, pack and ship physical education (PE) kits to the various recipient schools. Thanks to the work of TDS gym teacher Chris Thompson who applied for this gift that resulted in TDS receiving two PE kits that contained jerseys, soccer balls and goal posts, basketballs, footballs, baseball mitts, jump ropes and many more items! This donation is part of a relationship between Cubs Charities and Good Sports in support of local youth in Chicago.
This gift is tremendously exciting and timely for students and staff. Gym is the favorite time of day for many of our TDS students because it's a place where they feel successful and can learn positive social interactions like cooperation and good sportsmanship. In addition, TDS has recently partnered with the Chicago Area Alternative Education League (CAAEL) and many of these donated sports items will be used during CAEEL sporting events.
A component of TDS' daily curriculum, CAAEL motivates students to meet weekly attendance, academic, and behavioral eligibility criteria before participating in events. The benefits of participating in CAAEL are profound: TDS students develop social skills, learn positive peer interactions and team work, and accept the consequences (positive or negative) of their decisions. Bowling, art, basketball, flag football, volleyball, soccer, softball, basketball, spelling bees, and academic bowls are some of the motivating programs CAAEL offers partner schools.
Watch TDS 5th grader Javion putting some of the new gym equipment to good use!
ABOUT THE CHICAGO CUBS
The Chicago Cubs franchise, a charter member of Major League Baseball's National League since 1876, has won the National League pennant 17 times and was the first team to win back-to-back World Series titles in the 1907 and 1908 seasons. In 2009, the Ricketts family assumed ownership of the Chicago Cubs and established three main goals for the organization: Win the World Series, Preserve and Improve Wrigley Field, and Be a Good Neighbor. In 2016, the Chicago Cubs made history again when the team won its first World Series in 108 years, ending the longest championship drought in North American sports.
ABOUT GOOD SPORTS
Good Sports gives all kids the lifelong benefits of sport and physical activity by providing new equipment, apparel and footwear to those most in need. Since 2003, Good Sports has provided more than $39 million worth of equipment to more 4,200 youth programs, impacting over six million kids.
ABOUT CAAEL
CAAEL was founded in 1976 by John Martin, a former educator at an alternative school for kids with severe behavioral challenges, to give alternative school educators a powerful set of tools to build hope and change lives as well as eliminate the critical interscholastic athletic and activity gap created when at-risk/special education students are removed from their regular school programs. CAAEL partners with a large network of alternative programs to offer more than 900 events and tournaments that serve 5,000 students from 30 Illinois counties, including Chicago and its north suburbs.