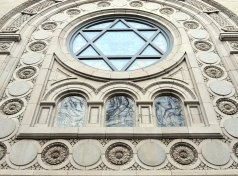 by Dawn Levin, Liaison
How can an agency with services as wide-ranging as JCFS become more accessible while directly addressing the needs of a synagogue community? The Synagogue Community Partnership (SCP) was developed solely for this purpose.
In a Synagogue Community Partnership, a specially-trained JCFS Liaison is assigned to each congregation.  The Liaison develops a strong relationship with partnering congregations in order to provide a variety of one-stop, easily accessible connections to support and services such as:
Consultative support for rabbis, synagogue professional staff and lay leaders
Assistance for congregants and their families to address concerns in areas ranging from mental health and financial crisis to housing instability, food insecurity, and medical, education, behavioral, social and relationship issues
Helping to locate activities for an aging parent, supporting a family that is searching for housing, or contacting a local food bank to connect a congregant in need with their services
Education/prevention programming on such topics as abuse, addiction, bullying, parenting, wellness, managing chronic conditions and aging issues
Support groups focused on issues such as bereavement, substance abuse, single parenthood or divorce
Professional trainings for religious school and synagogue staff members
The Synagogue Community Partnership was first piloted in 2013 as a collaborative effort between JCFS, Oak Park Temple, and West Suburban Temple Har Zion in River Forest. JUF Federation Breakthrough Grant Funding provided JCFS with the ability to expand the project to two targeted communities: the Chicago Lakeview neighborhood and the DuPage County area. During the 2016-17 program year JCFS engaged in partnerships with six synagogues: Oak Park Temple, West Suburban Temple Har Zion, Anshe Emet Synagogue, Temple Sholom, Anshe Sholom B'nai Israel, and Congregation Etz Chaim.
SCP was designed to proactively support and maintain an environment of health, trust and well-being.  And to make sure that JCFS is on the ground, present and visible where the individuals live, work, learn and worship.
For more information about the Synagogue Community Partnership, please contact Ann Luban, Program Coordinator or call 847.745.5420.