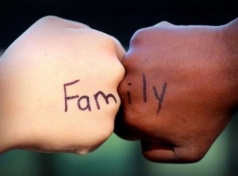 by Marsha Raynes, Manager, Project Esther: The Chicago Jewish Adoption Network
November is National Adoption Awareness Month.  For over two decades, this month has been designated as a time to shine a light on adoption and to bring attention to the number of children and youth in foster care waiting for permanent families.  It is also a good opportunity to recognize the different options couples and individuals have to help build their families.  
Project Esther: The Chicago Jewish Adoption Network of Jewish Child & Family Services is committed to addressing the needs, questions and concerns of every individual and couple facing family challenges. Project Esther supports and embraces men and women of all walks of life who are struggling with fertility issues, exploring assisted reproductive options, considering adoption or need guidance in dealing with the stresses of modern family life.
Family diversity is cause for celebration because it has contributed to enhancing and strengthening the myriad of threads that form the tapestry that is our Jewish community. Recognizing that there is no one definition for the modern family, Project Esther offers a range of services and programs that support, strengthen, educate and connect diverse Jewish adoptive and prospective adoptive families. 
For more information, contact Marsha Raynes or 847.745.5408