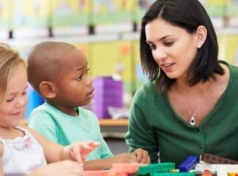 At JCFS's Integrated Pediatric Interventions, we strive to think broadly about how we can best help a child.  We look at their various skills and how those skills impact their daily life and functioning.
Perhaps you feel as though you are not connecting with your baby the way you expected to, or maybe you are confused and overwhelmed by your child's behaviors, and feel unsure of what to do next. Social work services can help parents and their children work through these situations, as well as many others. 
Our experienced social worker meets with children and their families to:             
Provide family support, especially during times of transition or increased stress

Provide psycho-education for parents and children

Utilize psychodynamic (insight-based) and cognitive behavioral (behavior modification) approaches to psychotherapy

Work through challenges related to child development, parenting or parent/child relationship
Additionally, the IPI Social Worker is available to conduct guided observations for parents of their child's Occupational, Speech, or Developmental therapy sessions. Guided observations provide parents with the opportunity to watch their child's session from a different room, learn about what is happening during the session and engage in discussion about any concerns or questions they might have.
IPI Social Work services focus on working with your child as an individual, as well as a part of your whole family. Children, their thoughts and feelings, and their behaviors are created and influenced by various factors. These contributors include their own genetics and personalities, their family dynamics, the personalities of their family members and environmental components. The IPI Social Worker understands the interaction of these factors, as well as the fact that each individual and each family is unique.
Call today for a free consultation at 847.412.4379 or ipi@jcfs.org