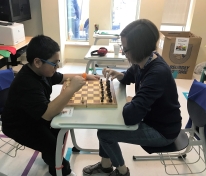 5th grade student, Miguel, has made huge strides since attending the Therapeutic Day School (TDS) at JCFS. His mom shared how different Miguel has been since his time here. "TDS gave my son a new life," she explained. "At previous schools, Miguel didn't have the proper supports and individualized attention that he needed. This school is different. His teachers understand what he needs and ask him for his own thoughts and ideas." Miguel's mom feels one of the major differences here is that the students are given the space and time to grow. "Miguel has a long bus ride to school, but it is worth every minute," she stated. TDS has even impacted Miguel's home life. "Now Miguel will ask how he can help me; he'll offer assistance in different ways at home. I don't know what else to say except that having my son be a part of TDS is the best thing that's ever happened to him."
TDS School Clinician, Jane Matthewson, shared her own observations, "when Miguel started here, he was a very different student. Now he will verbalize his feelings, identify his triggers, and utilize appropriate coping strategies to handle stressful situations." Matthewson also shared that Miguel regularly advocates for himself and that the ability to do so is an important life skill he'll need after he leaves TDS. Matthewson provides weekly clinical therapy and consultation to Miguel and his classroom staff, a support all students at TDS receive.  
TDS Formula for Learning
Miguel is just one of the many students who's blossomed at TDS. Students are able to make positive changes because of the individualized attention they receive under the TDS core belief that each student's life experience has impacted their ability to be successful and, if they could succeed, they would. Many students at TDS have experienced trauma. Exposure to trauma can impact learning, emotional regulation, social interaction and so much more. Trauma impacts the brain and the way information is processed. Therefore, it is imperative that the school experience is designed with that in mind. 
To facilitate positive change and growth among students who've been impacted by trauma, the proper support, time and guidance is needed. One modality regularly used with students at TDS is called Collaborative Problem Solving (CPS). CPS, an evidenced based model designed for children and youth who've experienced trauma, has proven to be highly effective. Utilizing this method, staff and students take the time to talk through regularly occurring difficult moments. The desired outcomes from these conversations include: increased insight into triggers and current maladaptive behaviors, and an ability to identify healthier responses and coping strategies. Over time, students can better handle stressors due to the rebuilding of neuro pathways (a fancy word to explain the brain's wiring and communication system) which ultimately leads to increased emotional regulation and independent functioning. TDS classrooms are designed to facilitate a positive and successful school experience. (Read more about building a trauma informed classroom.)
Miguel is a great example of a student who has taken the time to work with staff, and more importantly, himself. Way to go, Miguel! TDS is very proud of all you've accomplished!
---
Get to know Miguel
Favorite Movie: Scary movies
Favorite Sport & Athlete: Soccer and Messi, Ronaldo, Chicharito
Favorite subject: Math, specifically the times tables and word problems
Favorite Superhero: Superman
Favorite Animal: Cats
What do you want to be when you grow up:  An engineer in the military
Favorite Color: Black
Who inspires you:  My classmates inspire me. They are doing a good job in school with classroom behavior and homework – I look up to them.
What do you like about your teacher: Ms. Kate is kind and encourages me to make good choices.
Do you have any cool talents: I can make cool things out of paper using origami, like a fortune teller, hearts, airplanes. I like to cook fish and eggs.
What do you do for fun: When it's warm, I go to the beach. Every week I sing in a choir at church.