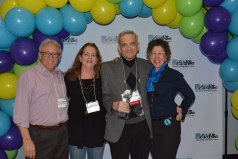 Thank you to everyone who joined us at Tuned In Tune Back Time, the 11th Annual Larry Dobkin event benefiting Response Center on Sunday, March 18! It was an INCREDIBLE event that exceeded all of our expectations!
We deeply appreciate everyone who joined us at the event and in spirit! We are especially thankful to our many friends at the Jewish United Fund/Jewish Federation of Metropolitan Chicago, our entire Response Advisory Council, our Sponsors, and everyone who had a hand in planning and making this year's event a phenomenal success! We'd also like to give a special shout-out to our amazing venue, Loft 21.
We also congratulate and thank honoree Bruce Scher, an ally of Response Center, who for many years generously volunteered his time and energy to single-handedly produce and direct the teen talent showcase that launched Tuned In.
A big thank you to the Dobkin Family for their generosity, support and kindness; Tuned In plays tribute to Larry Dobkin, our dear friend and longtime advocate of Response Center and the teens we serve. We are very proud to honor his memory each year with this event.
For many teens, experiences at Response Center are some of the most impactful, transformative and empowering of their young lives. Alumni like Alex speak movingly of how Response Center helped them grow into capable, confident adults: "I can't possibly explain in words what Response Center did for me. I learned how to deal with issues teens face. Above all I met mentors that I still keep in touch with to this day, more than ten years later."
And parents like Mary affirm the importance of our services: "Response helps fill a vital need for teenagers on the North Shore and surrounding communities. This center can act as a safe haven for kids and their families who need support and guidance. They make an effort to reach out to other organizations to build a support structure within the community. I see this organization as an important and necessary gem."
The work that Response Center does is meaningful, and sometimes not easy. At the end of the day, however, it's so worthwhile and rewarding because of the lives we've helped transform and because of the tremendous support of our community.