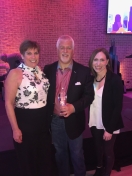 Thank you to everyone who joined us at Tuned In Chicago: The Larry Dobkin Event benefiting Response for Teens on Sunday, March 31, 2019!
We appreciate the efforts of the Response Advisory Council, the Dobkin Family, our generous donors, and everyone who helped make this year's event an outstanding success! A special thank you to Andy Poticha for his ongoing support of Response for Teens and the JCFS Chicago community.
It is especially exciting that this year we are honoring Andy Poticha. Dedicated to our community's youth and the work of Response, Andy was first introduced to the RAC by his longtime friend, Larry Dobkin and later co-chaired Tuned In with Larry. Andy has long been an amazing energy for this event and all of Response's work. While he now serves on the Board of Directors for both JCFS Chicago and Illinois Holocaust Museum, he maintains his passion for developing the youth of today into our leaders of tomorrow.
Today's youth face a fast-paced culture, an ever-changing social media landscape, and changing notions of identity and where young people fit in. The work that Response for Teens does is meaningful, and sometimes not easy: providing support and guidance, counseling, education, and leadership development to help them navigate their path. At the end of the day, however, it's worthwhile and rewarding because of the lives we've helped transform.
We look forward to seeing you at Tuned In 2020!