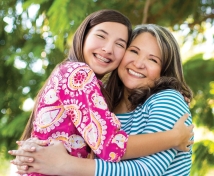 Given the variety of changes and uncertainties facing a normal teenager, anxious feelings or worries are common. However, for some teenagers, anxiety becomes a chronic state of mind and can interfere with their daily life. Therapists at JCFS's Response Center for Teens provide a safe, comfortable environment where teens can express their feelings and learn to manage their emotions.
"We have a unique understanding of adolescent developmental issues grounded in knowledge of what it's like to be a teenager today," says Sara L. Manewith, Director of Response Center for Teens. "Our role is to help the youth we serve to navigate their path in ways that are healthy and productive, and develop coping strategies that will serve them lifelong."
After the death of her grandmother, Rachel* experienced debilitating anxiety that she expressed as feelings of pervasive worry. She would call her parents repeatedly because she felt unable to walk home alone and refused to have a minor surgical procedure for fear of dying. Rachel's therapist, a licensed clinical social worker at Response, used some mindfulness techniques to help manage her anxiety, but was unable to engage her in much "talk therapy." In one of their weekly sessions, Rachel commented on a guitar in the therapist's office. Looking for a way to connect with her, the therapist taught Rachel a chord or two and this became a way for them to communicate. Over the next few months, Rachel and her therapist would strum and sing a bit, talking in the pauses, and began to develop a strong therapeutic relationship.
As her grandmother's yahrtzheit approached, some of Rachel's anxiety returned, but playing music became a soothing mechanism to help her cope with her feelings. In fact, Rachel asked for her rabbi's permission to play a song (Pink's Beam me Up–a song about longing for just a moment more with someone who is gone) for her mother during this grieving period.
Previously immobilized by anxiety, Rachel gained a sense of stability and in a true show of comfort, she chose to go to Israel for a gap–year after graduating high school– unthinkable just months earlier. According to a more confident Rachel, "many people have been where you are right now and you might feel all alone. There are people to help you–you just need to reach out."
"I have always believed strongly in teen empowerment and teaching our next generation the skills needed to make healthy life choices," said Jill Katlin, Response Advisory Council Member.
The JCFS family of services works to strengthen lives throughout our community. Your generous gift allows us to continue helping over 30,000 people in the Chicago area each year. Contributions of any amount are impactful and appreciated, as they support a wide range of programs, and will go to help others like Rachel. Thanks so much for joining with us in this work.