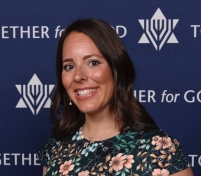 by Elizabeth Robbin MS, CCC-SLP Director, Camp Firefly
For as long as I can remember, camp has been a part of my life. From day camp as a young child to my first summer at overnight camp when I was 12, my experiences at camp shaped the person I am today. It helped me become independent and go outside of my comfort zone. Anyone who knew me growing up knew that Camp Chi was the place where I truly shined and was my best, happiest self.  
I am lucky to have an incredibly close group of friends many of which I went to camp with. When I am away at Camp Firefly, I am reminded of how special these relationships are. One of my favorite parts of Camp Firefly is watching campers make their own friends. For some of our campers, it is the first time that they are making a friend who understands them and shares common interests. The essence of camp is building relationships and memories. I am so proud that we are able to help our campers do that.
After having worked at Camp Firefly, first as a counselor and now as the director, I can tell you without a shadow of a doubt that Camp Firefly is unique, important, and essential. It gives kids who have social disorders an opportunity to have a camp experience just like anyone else in a smaller, more structured setting. Julie Feldman, the assistant director, and I spend the entire year planning to make sure that no detail goes overlooked for those three special weeks in July when our campers are up at camp.
I believe that everyone deserves to experience summer camp. At Camp Firefly, our campers have the opportunity to try new activities and develop new skills, build confidence, and become independent all while making new friends. Additionally, campers are continually working on their social skills throughout the day. As I tell the staff, while it may be some of the hardest work they do, it will definitely be the most fun and rewarding.
If you had asked me twenty years ago, my first year on staff at Camp Chi, whether I could picture myself dedicating my summers to Camp Firefly, I honestly would say yes. For me, camp was never just summertime fun, it was a way in which I defined myself. It was where I made life-long friends and determined who I wanted to be when I grew-up.
I'm proud to say that I've grown up, but I haven't left that part of me behind. Camp Firefly is not just a job for me, it is a passion. I know not everyone is lucky enough to work in a field they believe in, and I do not take it for granted that I spend my time working on something I truly love.
Spending a few weeks every summer with our campers and watching them discover a whole new world is awe-inspiring. If you have never watched someone complete their first zip-line, make their first friend, or teach themselves Hebrew at their first Shabbat, I promise that you are missing out. As we say up at Camp Chi, "From the outside looking in, you can't understand it. And from the inside looking out, you can't explain it." Our campers' lives will forever be changed by the people they have met and the adventures they have accomplished.
Camp Firefly is part of the JCFS family of services, in partnership with JCC Camp Chi.