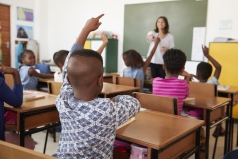 (excerpts from Chicago Tribune, 8/13/17 by Emily Pershbacher)
As you get to know more about your child's teachers this year, some will immediately stand out in a positive way, and others may raise a flag of concern.  Mark Kriston, owner of two learning centers in Chicago says, "As a parent, your first priority is to your child. The reason you're trying to address your unhappiness with a teacher is because you are really advocating for your child and want them to have a good learning experience."  Here are a few ways to go about resolving issues you may have with a teacher.
Figure Out Why
Parents may see that their child is frustrated, or they may feel like their child is unfairly getting a bad grade. The last thing the parent should do is jump to the conclusion that this is because of a bad teacher. Some factors that could contribute to the teacher-student problem are staffing, budget shortages, class size or curriculum choices. Also, consider the fact that your student may not be putting forth their best effort in the classroom. "If your student isn't prepared for class, it's going to make it harder for the teacher to connect with your child" says Kriston.
Schedule a Meeting
Start by setting up a meeting with the teacher or principal. Kriston's most important advice is to go in to the meeting with an open mind, without rushing to judgment. "Look at the teacher as a professional," he says, "someone you want to work with to remedy the situation."  It can also be helpful to ask the teacher questions to gather more information about the class and how the teacher feels your student is performing. Feel free to share anything you think the teacher should know about your child.
Seek Outside Help
Since you don't want your student to fall behind or become uninterested in a subject, find out what other resources may be available within the school, the school district or even in the community. Maybe your student could benefit from a positive, supporting relationship with a peer or adult tutor. There also may be study groups available after school. Remember to be a positive support to your child, rather than a critic. If you model a positive attitude through your language and behavior, it will go a long way to encourage your child to overcome their fears and anxiety about school, in general, and about a particular teacher.
Remember, we're all in this together, in the best interests of the children and youth in our care…
Marc Bermann, JCFS Chicago Foster Parent Recruiter/Trainer 312.673.2755