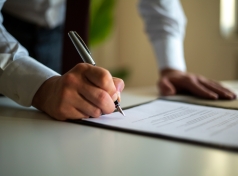 As a country, the US has made much progress on the way to ending domestic violence. But—like with most good work-- there's always more work to be done. On Thursday, March 7 President Barack Obama signed the Violence Against Women Act (VAWA) back into law. While Congress failed to reauthorize VAWA in 2011, this time it made it through the House with 286 votes for it, and 138 against. There are more than a few reasons to feel pretty great about the bill's passing.
"Violence in homes has tremendous, long lasting impact for domestic abuse victims as well as the children who witness that abuse," said Amy Rubin, Director of Community Services at JCFS Chicago and founding member of JCARES (Jewish Community Abuse Resources, Education and Solutions). JCARES, a program of JCFS Chicago Community Services, "works collaboratively to build communitywide, integrated systems that effectively prevent and respond to abuse; systems that depend on VAWA funding and legal provisions," she adds.
Originally passed in 1994, VAWA strengthens existing protections and victims services by authorizing $659 million over five years for various programs that help prevent domestic violence, and includes expanded protections for Native Americans and immigrants. For the first time VAWA also includes explicit protections for LGBTQ victims of domestic violence.
VAWA's passing drives home the point that domestic violence and abuse has a huge and lasting effect on everyone involved—not only the victims, and not only women. "JCFS Chicago as an organization made the bill's passing an agency priority, said Rubin. "We worked in partnership with the Jewish Federation of Metropolitan Chicago's Government Affairs to reach out to Illinois legislators about why reauthorization was critical," said Rubin. Supporting the reathorization, with letters to House and Senate Majority and Minority Leaders, participating in Federation's Government Affairs mission to DC and other actitivies, was a priority for JCFS Chicago's Action and Advocacy Committee.
Robin Stein, Director of Response for Teens—counseling and empowerment programs for teens at JCFS Chicago—also worked to get VAWA through. "In our work at Response for Teens we know that this is truly a public health issue," Stein informed Congressman Schneider in her meeting with him. "Annually, one in three girls between the ages of 16-24 is a victim of dating violence or sexual assault, amounting to 1.5 million girls each year!"
When the bill finally passed on Thursday, Rubin said that "as a longtime advocate for safe homes and families, I literally cried when I heard that VAWA had finally been reauthorized. When VAWA was signed into law in 1994, it inspired a transformation in the way that we – as a country – understand and respond to domestic violence. It was heartbreaking to consider that continued progress towards transformation would be threatened."
To learn more about JCARES or Response for Teens, please visit jcfs.org or call toll-free, 855-ASK-JCFS (855.275.5237).
Image Credit: Susan Walsh/AP Photo