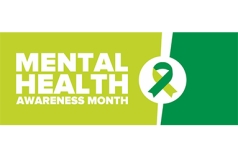 Each year millions of Americans face the reality of living with a mental illness. During May, JCFS Chicago joins the National Alliance on Mental Illness (NAMI) in the movement to raise awareness about mental health. At JCFS, we are helping people transition to life beyond the lasting impact of the pandemic. Our programs are addressing long-term mental health needs, job transitions and financial uncertainty. Demand for counseling, job supports, and other services have never been higher. We are here to lift those who are struggling. 
NAMI reported that 1 in 5 adults and 1 in 6 youth struggles with mental health challenges each year, and now we are all experiencing prolonged changes to our daily lives due to the pandemic. While the effects of the pandemic are something people need to address, there has been an unexpected benefit: "Telehealth has created a lot of ease. Clients used to miss appointments due to lack of transportation, but now it's way more accessible," says Devorah Greenfield, Assistant Director of  Adult and Family Counseling at JCFS Chicago. But spring is a time for awakening; now that people (especially younger folks!) are coming in person more, there have been a lot more opportunities for comradery. "The excitement of being in person with the kids was palpable, seeing all the kids playing outside," adds Devorah.  
Employment and careers can be a significant part of one's identity. Being unemployed or underemployed can become a hefty mental load to bear, along with the financial stressors that usually come attached to it. JVS Career and Employment services have positively impacted the lives of people from all social classes. During the height of COVID, our career counselors worked with dozens of clients who lost their job because of the pandemic, and a lot who were struggling to cope in the "new normal." The mental strain on our clients did not go unnoticed.  
"Stress can be immense when unemployed or underemployed. It contributes to a lack of identity, which can be exceedingly difficult to deal with," said Jeffrey Blumenfeld, Director of JVS Career Services. "Add to it the heightened sense of isolation that was exacerbated by the pandemic, and it becomes fuel to a slowly burning fire."   
Job interview and resume workshops coupled with JVS' access to an expansive national network of employers allowed many people losing hope to make a smooth career transition, alleviating the heavy mental burden that unemployment was causing for them.  
Seeing the effects of the pandemic on teen mental health, JCFS Response for Teens recently launched the Wellness and Expressive Arts Initiative (WEXi), an opportunity for young people to be together and regain a sense of community and hopefulness after the last couple of years. To do that, they are offering after school and Sunday programs to promote creative expression, in the areas of: 
Creative arts and writing 

Mind and spirit  

Body and movement 

Music and sound  
"WEXi is all about therapy with a lowercase 't,'" said Sara Manewith, Director of Response for Teens. "We want it to be a place for connection, expression, and renewal. It's a place to make friends and a place to unwind, reset, and try new things."  
Activities through WEXi include restorative yoga, creative journaling, improv classes, and horticulture, among many others.  
JCFS Community Services' staff will be presenting mental health seminars in the coming few weeks. Here are a couple to take note of:   
Beth Fishman, Program Manager of Addiction Services at JCFS Chicago, will conduct a presentation and Q & A about addiction to the Jewish Orthodox network on May 10th from 9am-11am.  

On May 25th, Nina Henry, Addiction Specialist and Mental Health Educator at JCFS Chicago, will be hosting a seminar entitled "Covid Re-Entry" at Beth Emet Synagogue in Evanston, Illinois. The discussion will focus on dealing with grief, depression, isolation, and rising substance abuse that occurred during the pandemic.  
JFCS also provides mental health education and prevention programming for synagogues, schools, camps, and community organizations.   For more information regarding these programs, contact Diane Halivni at 847.745.5459.
Oftentimes it may be difficult feeling comfortable sharing our daily struggles of stress and hardship. It is important to reach out and discuss your experiences with mental health professionals. They can help you manage stress and anxiety and support you when dealing with other's mental health challenges.  
To bring attention to the importance of proper mental health, here are a few tips to help you get through your day:   
STRUCTURE — Having a consistent routine can help you make the most of your day and decrease worrying!  

SOCIALIZATION — Talking with others and spending time with friends or family may help you calm down and feel refreshed and satisfied. Remember to set boundaries and work to maintain a healthy relationship with others!  

SELF-CARE — Keeping yourself happy is the key to mental health. Self-care might be cleaning your room, brushing your teeth, or even working on skills or hobbies you enjoy. If you try to preserve your well-being, you are doing self-care!  
For additional emotional support, call JCFS Chicago at 855.275.5237. It is also critically important that we all know the warning signs that someone may be in more imminent need of help. If you notice any of these in yourself or others, do not wait to act. Call 800.273.8255 24 hours day, 7 days a week. Or text 741741. Or call 911. Your actions might save a life.