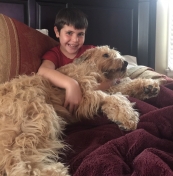 Our Integrated Pediatric Therapies (IPT) therapists first met Jackson when he was a toddler and experiencing developmental delays. With the help of the IPT team, Jackson was able to make great strides in his language, social and emotional development.  
Now 13 years old, Jackson was having some difficulty with his reading comprehension, word recall, and verbal and written expression – all common concerns for a child this age. Jackson and his family knew he could benefit from additional support, so they turned to our therapists once again for help.
Writing essays and making presentations at school have been difficult for Jackson, oftentimes leaving him frustrated and withdrawn. Speech-language pathologists are experts in communication, and treat problems with speech sounds, language comprehension and the flow of words. Allison Liwanag, an IPT speech-language pathologist, began working with Jackson to strengthen his vocabulary, reading comprehension and writing skills.
Allison used exercises to help Jackson break assignments into smaller parts so he could tackle the tasks individually, and then time how long it takes for him to complete each task with his best effort. Motivated by visualizing his goals and tracking his results, Jackson is proud that he can now write a paragraph in 10 minutes!
According to Jackson, "Now I can speak better and I feel more confident when talking to people and saying things like, 'cheddar and chai.' I write words better than I have ever done and now I can button a shirt easier [too]."
Marci Kreiner, an IPT occupational therapist, focuses on Jackson's ability to complete his daily activities, such as self-care (dressing, grooming, etc.), school work, and social activities. 
One of Jackson's favorite hobbies is cooking, but he lacked the fine motor strength and dexterity to easily pour, chop and stir without quickly becoming fatigued.  Having made tremendous strides in these areas, he is now looking forward to attending two weeks of cooking camp this summer. 
Jackson has also improved his balance and core strength, enabling him to participate with family and friends in sports with confidence, as well as navigate his environment more effectively. 
Speech-language and occupational therapies can help boost a child's self-esteem and confidence along the way. Developing and expanding a skill and using it correctly can encourage a child to try new activities, which is the foundation for continued learning and success.