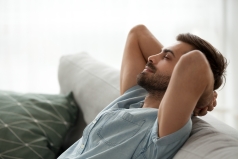 by Tami Sollo, Coordinator of the JCFS Divorce Specialty Center
I have been so inspired by the immense amount of creativity that has popped up around the world during this pandemic. We have had first row access to people's homes and minds across the world. As long as we are connected to WIFI, there is little that separates us. On the streets of my suburban neighborhood, strangers nod and say hello in warm tones as we get our fresh air walks in for the day. There is a familiarity that did not exist before COVID. We are all doing the same thing, at the same time, and we just get each other in a way that we never could have imagined.
I have discovered a positive spirit that I have really come to admire in new and special ways. I was taking my morning walk when I spotted colorful chalk decorating the sidewalk. "Everything will be ok", was written in pink. A few squares passed and then, "Be the best you can be", in mint green. Then "You are loved" trailed sporting baby blue. I stopped and retraced my steps. Suddenly the fear that I had been trying to tamp down became a churning sensation in the pit of my stomach. Yet I was oddly soothed by those colorful words on the sidewalk. I felt connected to the mysterious person who wrote them.
I began my blog with the goal of helping people going through divorce to find a sense of community and support. After the first installment went out, I received an email from a woman in New Jersey. She had written a book about rebuilding life after divorce. We began emailing, and we quickly determined that we were very much of the same mind. We both were survivors of domestic abuse, yet we both had rebuilt our lives through helping others in similar circumstances. I suggested we meet for coffee in the virtual world. She suggested champagne. She was celebrating her book being published in Portuguese. We found it easy to talk to one another and although we began the meeting as strangers, by the end we were old friends who shared a common experience.  Her book is called, "Solve the Divorce Dilemma: Do you keep your husband, or do you post him on Craig's List"? by Sonia Frontera. Sonia's book is filled with personal accounts of how she was able to create the life that she wanted after divorce. It is written with a familiarity that feels like you are getting advice from your older, more enlightened sister.  It's a great time to read something uplifting!
Now more than ever, we need a break from the chatter inside our heads. If you are in the divorce process, this is even more essential. How do we get away from the anxiety we might be feeling? I will share with you what works for me, and then we will try to figure out what will work for you. I am a definitive, archetypal Rock Chick. I learned at a young age that lyrics and the notes that accompany them hold a wide range of emotion. I become completely absorbed in the moment as I feel the music in every part of my body and mind. It brings me to a place of silence from which many of my creative ideas emerge. It is a place I visit often during this time of isolation.
You might be asking yourself, "How do I find the thing that will help me get to that place?" Let's begin with one of those long conversations with yourself that I mentioned in my last blog entry. Ask yourself what makes your heart flutter just a little? It could be a picture, a thought, an image, a person, a concept, an animal, anything at all. A flutter can be very subtle, so you must begin from a very quiet place. Focused breathing has always helped me to quiet the chatter inside my head. Look for what works best for you. Think about the feelings that come up and let them become you. Don't be discouraged if you are unable to stay focused for very long. Try again the next day and see if you can stay in that quiet place a bit longer. Like anything worthwhile, this takes some practice. At the very least, it will allow you to focus on something other than the pandemic.
Stay safe and take good care!  You can email Tami Sollo with questions or if you just need someone to talk to.