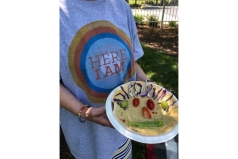 It was a great summer for kids in kindergarten through 8th grade who attended the JCFS Chicago Hinaynee camp, which provided therapeutic support while school was out.
Campers learned to practice mindfulness by starting each week with the words, "Here I am feeling…," which set the stage for an inward turn inwards towards creativity, connectedness, and calm.  "We have witnessed so much growth in the Hinaynee campers this summer. Over seven weeks we had the opportunity to generate positive, lasting change around social skills, anxiety management, frustration tolerance, and conflict resolution," said Alissa Rotblatt, LCSW and camp organizer.
A goal for the Hinaynee summer program was to increase each child's comfort level in understanding and sharing their emotions, even the more difficult ones. "We were thrilled to watch children utilize JCFS as a safe space to process their feelings," adds Alissa. The campers took on this personal challenge by imagining a place where they feel safe and bringing their vision to life with an art project, so that in stressful moments they could think of that safe space and feeling of calm.
Each week a member of JCFS's specialist team shared their work with campers, which even included a visit from Sparky, our resident therapy dog. Mindfulness, art and health topics were addressed. 
Campers also strengthened their skills to help manage friendship difficulties, build connections, navigate conflict, and learn to respond to peers in new ways. "As camp wrapped up, we noticed the kids making a real effort to stay connected to one another even after they said their good-byes," said Alissa.
Contact us about fall therapeutic groups and sign up early for summer 2020!