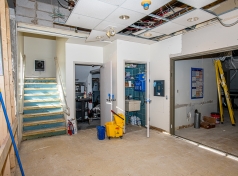 It's been another month of incredible progress on the Seigle Campus! 
Though we wish we could give everyone a personal tour of the site, here is a video tour of the Seigle Building, future home of Response for Teens. In the days since the video was recorded, walls have been painted and flooring has gone down. The transformation in each building is remarkable. From the large new patio to the light filled conference room of the Seigle Building to the accessible lobbies and welcoming breakroom of Goldie Bachman Luftig, each space has been given new life. Next up: new windows and ceiling tiles. Every day brings us that much closer to move in.
Fundraising is progressing as well as construction. We appreciate each gift at every level. Of particular note, we're excited to announce the following two new gifts:
Crown Family Philanthropies for $500,000

Illinois Department of Commerce and Economic Opportunity for $250,000
Thanks to the unwavering support from our community of donors, over $6.6M has been pledged for this project. 
Construction is expected to be complete in late January with phased move-in through the winter. Once the weather is warmer and we can gather more safely, we will hold an official campus opening celebration.
In the end, though this report is about progress on our bricks and mortar, we know that the real impact of your support is on the services that will be provided out of the Seigle Campus. Whether you are committed to JVS employment services, HIAS immigration and citizenship, Response services for teens, counseling or community services, your gift will strengthen our community for decades to come. 
We are continuing to secure commitments for the Seigle Campus, and there are many special opportunities to be involved. If you are interested or have any questions, please contact Judd Holzman, Vice President and Chief Development Officer or visit our webpage.