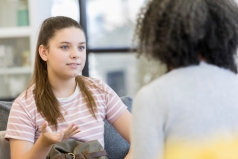 Recently, two eighth grade girls who went through JCFS Chicago's Safety Kid program spoke up against a teacher who was making them feel uncomfortable. The Safety Kid program educates preschool- 5th grade students about personal safety and empowers them with the language and tools they need to keep themselves safe. Students learn how to understand boundaries and look out for signs of abuse. 
They brought to the attention of their school director that the teacher was complimenting their outfits, patting them on the head, asking for elbow bumps and connecting with them on social media. The girls shared that it was the lessons they learned in the Safety Kid program that made them realize their teacher had crossed boundaries.
Their director made sure the teacher was fired, and that they remove all social media connections with students. "We are sorry that this occurred and are immensely proud of how these girls handled this," the director shared. Programs like Safety Kid are so important for the community. They empower students with the information they need to stand up for themselves and turn to trusted adults when they feel uncomfortable, helping to end the cycle of abuse.