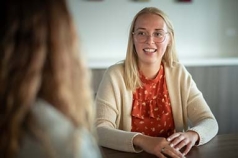 The pandemic has impacted all of our lives, and for some people this has meant an unexpected financial hardship. With support from Jewish United Fund (JUF), our Financial Assistance program has been able to provide emergency funds to those that need it.
Cora* is 93 years old and had been living with her daughter in their two-bedroom apartment for many years. In 2020, her daughter died from a sudden illness and Cora's grief was insurmountable. Her daughter was the only family nearby and who she relied on for family connection, emotional support, social engagement, and financial stability.
Shortly after her daughter passed away, the property manager raised her rent an additional $100 a month and ended the shuttle service that took residents shopping for groceries and other needs. Cora was afraid to venture out by public transportation and was not up to the travel. Neighbors would pick up groceries if they were going out, but Cora didn't know how else to access food. She also owed several months of rent and had other unpaid bills, which led Cora to JCFS Chicago's Financial Assistance program by her property manager.
Cora was connected with a financial counselor who helped her better understand her basic monthly expenses. Together they created a monthly budget that gave her financial stability without her daughter's income. JCFS provided Cora with two months of back rent and other property expenses, along with food support and a transportation allowance. This gave Cora access to food delivery and money for a taxi or ride share. She signed up for multiple local senior food deliveries, including one where she could order from the pantry online.
Still grieving the death of her daughter, Cora's financial counselor connected her with JCFS counseling and chaplaincy services for emotional support. Her counselor also encouraged Cora to reach out to CJE SeniorLife for additional elder care support and to help navigate online resources.
"I was relieved to be able to stay in my apartment and pay my rent. I now have the resources to move on with my life without the fear of being displaced," said Cora.
Make a donation today.
*Name changed to protect anonymity