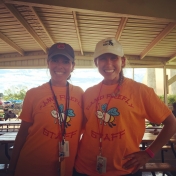 by Elizabeth Robbin and Julie Feldman
We remember our first day of camp as if it was yesterday. Bashful glances and giggles from the children; watchful eyes and tearful goodbyes from parents. The sounds of luggage and legs climbing into bunk beds; counselors chatting and smiling ear to ear.
Our first day at Camp Firefly changed our lives forever. As Camp Chi camper and staff alumni, we were thrilled to be back at camp in a different capacity. We returned to camp with skills from our professional backgrounds as well as everything we learned from our years of experience on staff at Chi. And while our studies and work experiences provided a solid foundation for what to expect, we were amazed from the start at the careful planning and preparation the staff undertook – no detail left unnoticed, no hour left unplanned. These are the details that consume our lives when we return home from camp until the first campers arrive the following summer.
We saw firsthand how Camp Firefly provides a safe and nurturing camp experience for kids and teenagers with social disorders who often find the camp environment to be overwhelming. As anyone who has been to camp knows, it is a magical place where friendships are formed, new skills are developed, and confidence is built. From campfires to field trips to the water park; from the climbing wall and zip line to afternoons in the sun at the lake, our campers were able to explore the often confusing social environment of a summer camp with the support of knowledgeable and empathic counselors guiding the way. The Camp Firefly staff worked to make the days predictable, set attainable goals, and nurture a group dynamic that was comfortable and safe!
The growth and maturity that we witnessed in the campers after just one week was unbelievable.The experience they had alongside their cabin mates and counselors was irreplaceable. CampFirefly is so special to so many children across the Midwest and as far as California. Like Camp Chi, it has become a second home, to both campers and staff alike. Seven years later, Camp Firefly remains close to our hearts and an important part of our day-to-day lives. We use the skills that we learned at camp to support children with social, communication, and developmental needs each and every day in our roles as a school social worker and speech-language pathologist.
On our path to becoming the directors of Camp Firefly, we have been fortunate to be part of the team that launched new Firefly programs over the past several years. In 2012, Liz helped developthe two week Teen Camp program, which was created as an extension program for campers whoaged out of Camp Firefly but would continue to benefit from attending camp. In addition to typical camp activities, teen campers have the opportunity to work on service project and mentor younger campers. In 2013, Julie helped launch the Firefly Day Camp program at Camp Apachi in Lake Zurich, a program modeled after the overnight program. In 2014, Liz was part of the team that created the Next Step program, a 3 week experience for campers who have graduated from Teen Camp. In addition to typical camp activities, Next Step participants have daily vocational placements, organize activities for younger campers, and go on special outings geared toward independent living.
We consider ourselves forever changed by the supportive staff we have worked with these past six summers, as well as being impacted by all of the campers with whom we have had the pleasure to work. It is difficult to put into words the impact this experience has had on all of us...for as we say up at Camp Chi, "From the outside looking in, you can't understand it. And from the inside looking out, you can't explain it. "Our campers' lives will forever be changed by the people they have met and the adventures they have accomplished.
Camp Firefly is a program of JCFS Chicago and JCC Chicago. For more information, or to begin the registration process call 855.275.5237