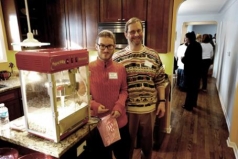 Resident Efraim "Fry" Wakschlag and his dad, Milt, enjoy some popcorn during the Heichal Home Open House.
By Chris Krapek
When you walk into the beautiful two-flat in Rogers Park, you'll smell the food being prepared.
The three residents love to make cuisine from all around the world. They research countries  and customs, cook the meal and maybe even host a few friends. From now until the end of the year, they've got every dinner and its theme planned out.
The residents are young adults who are just beginning their transition into adulthood and they couldn't be happier. On Sunday, January 26, they hosted an Open House for residents of the community to see  what life is like at The Heichal Home.
The Heichal Home is a person-centered community-integrated living arrangement (CILA) for people with intellectual/developmental disabilities. Over 100 individuals from prospective families and members of the community attended the Open House for a guided tour and to get more information about  living in a CILA.
"The Open House was an incredible experience that enabled us to begin to see just how much the Jewish community at large supported Heichal and – perhaps more importantly – how much support Heichal could provide to the community of Jewish persons with disabilities," said Milt Wakschlag, father of two of the residents at Heichal.
For parents coming through who have young adults with disabilities, the event sent a powerful, tangible message.
"When you walk into the house and you see the bedroom and living room and where the people living here take their boots offs and where they have their meals, you can visualize the future," said Jodi Newmark, Director of the Supported Community Living Initiative.
A typical week for the individuals who live in the Heichal Home  is just that--typical. They go to work for six hours, come home and prepare a meal, do their chores and unwind by watching some TV. Maybe they'll have an activity planned or they'll go to Yad B' Yad. On the weekends: Shabbat and a social activity with the residents at Migdal Oaz, another CILA nearby. Or, maybe they'll just sleep in.
"They are doing what young adults do -- they're going out and they're expressing themselves," Newmark said. "They make choices that we may or may not agree with, but they're given the opportunity to make those choices."
Wakschlag believes the Heichal Home will allow his children to enjoy the kind of life that we all seek ourselves, which, until about a year ago, he never thought could happen in a Chicago Jewish context in his lifetime.
"Their life is not an afterthought," he said. " It's important to my wife and me as their parents because we love to see our children blossom personally into the best people they can be, largely through the attentive and loving encouragement of Heichal and Keshet staff."
In Hebrew, Heichal means "sanctuary" or "sanctified dwelling." As an acronym, Heichal stands for "Home for Engaged, Inclusive, Communal, Hilchati Adult Living." To provide a person-centered approach in its truest form, the vision of the Heichal Home is supported via an Advisory Group made of up parents, siblings, community members and JCFS representatives. This group meets to discuss goals, issues, wellbeing, community support and ways to enrich the daily life and opportunities for the residents.
The JCFS site manager with special education expertise occupies the top floor apartment. The over-arching goal is to stimulate and support self-determination, growth and a sense of community for the residents.
While the three residents quickly became best friends, the Heichal Home will soon need to set the table for four…
Another resident moves in soon.
For more information on CILA's and the Supported Community Living Initiative, call 855.ASK.JCFS (855.275.5237), e-mail ask@jcfs.org