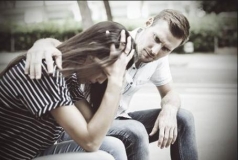 by Beth Fishman, PhD and Nina J. Henry, LCPC, CADC
Many individuals in addiction recovery struggle with an important question:  Should they tell people that they are in recovery?  The traditional response would be reflected in a quote from the Twelve Traditions of Alcoholics Anonymous: "Anonymity is the spiritual foundation of our program." Guarding anonymity in a world full of stigma against people who struggle with addiction and other mental health challenges was a realistic response.  Individuals in addiction recovery had reason to worry about their vulnerability and often only shared their status as a person in recovery with people they trusted would not judge them.
A new movement is now afoot. Faces & Voices of Recovery was founded in 2001 at a Summit in St. Paul, Minnesota, the culmination of more than two years of work to provide focus for a growing advocacy force among people in long-term recovery from addiction, their families, friends and allies.  Many  became aware of this organization when the film "The Anonymous People," was released; Faces and Voices of Recovery figured prominently in the film, promoting the idea that people in long term recovery should step forward with their stories of a life well lived in sobriety.  The stated goals include the reduction of stigma and shame, and public advocacy for more accessible treatment options.  Many new voices are being heard along similar lines.  For example, William Cope Moyers, the son of Bill Moyers and a prominent voice for change in addiction treatment has stated that stigma will remain entrenched unless individuals in long term recovery make sure they are heard.  
Addiction services at JCFS Chicago strives to reduce the shame and stigma of addiction in the Jewish community.  Helping individuals in recovery learn to tell their stories with an emphasis on a living a full and satisfying life in recovery is one means to this end.  We offer "Recovery Community Messaging Training" a program of Faces and Voices of Recovery.  In Messaging Training, participants learn how to stay on the life affirming message of recovery, even when the media and others might try to focus on the war stories of addiction.  Participants write their story and practice telling it as if to an audience of individuals who are not familiar with recovery, using language that has been proven to resonate with those outside the recovery community.
Acquiring these skills can make anyone an ambassador for recovery to all; to those who are still struggling with addiction, to the media who can spread the message widely, to community and synagogue groups, and to family and friends.
Last July the addiction services offered this training for the first time.  On Wednesday, June 1, 2016, in collaboration with CORE (Citizens Organized for Recovery and Education), the addiction services will sponsor another Recovery Community Messaging Training, "Our Stories Have Power." It will be held at the Relapse Prevention Counseling Center in Des Plaines.  If you or a loved one has been in recovery from addiction of any sort for two years or more, you are welcomed and encouraged to join us.
As William L. White, a distinguished historian and author of Slaying the Dragon, says of this advocacy movement:  "It sends a beacon of hope into the community that no one need die from addiction, that permanent recovery is possible, and that individuals and families in recovery can live full, meaningful and contributing lives."