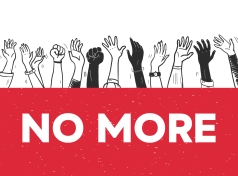 The ongoing incidents of violence by law enforcement against people of color in many parts of our country cannot stand if we have any hope of liberty and justice for all. Peaceful protest is a bedrock right that must be protected so long as action takes place denying any individual or group equal treatment and justice. The accompanying incidents of violence and looting occurring in Chicago and across the nation must not be assigned to the vast majority coming out only to make their voices heard, to do the right thing. This response to hate with hate cannot be permitted to distract from our commitment to ending this ugly stain of discrimination that persists against so many and for too long. 
Many of us cannot understand the violent reaction of some. Fifty plus years ago, Martin Luther King Jr. shared: "It is not enough for me to stand before you tonight and condemn riots. It would be morally irresponsible for me to do that without, at the same time, condemning the contingent, intolerable conditions that exist in our society. These conditions are the things that cause individuals to feel that they have no other alternative than to engage in violent rebellions to get attention. And I must say tonight that a riot is the language of the unheard." It is beyond sad that these words could have been written a month ago and been as relevant as when Dr. King spoke them.
The deaths of Breonna Taylor, George Floyd and far too many more must not have been in vain. According to the Talmud, anyone who destroys one life has destroyed an entire universe. The persistent racism that enables Black and Brown people to be murdered with impunity is destroying our world and cannot stand. JCFS is dedicated to strengthening lives and we reject all forms of racism. None of us can now come away from the current events pleading ignorance of life in our society for people of color. Let's all make our voices heard and join together to erase discrimination in all its forms. Speak up. Vote. Respect and celebrate difference.
These tragic events take place in an environment already heavy with stress and anxiety for all of us. The combination is truly sobering. It is in times like these that we are compelled to make the extra effort to consider and care for all of those around us.