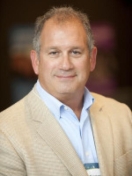 by Susan Schulman, Vice-Chair, JCFS Chicago Board of Directors
"My Dad did not know many people. He did not speak the language. He needed help and that help came from The Jewish Children's Bureau." (Now known as JCFS Chicago.)
Zoltan Zimmerman could never have dreamed his son Milton would be where he is today when he handed the care of 11 month old Milt to JCB. Milton, married for 25 years and father to four children, is the Executive Vice President and Partner at Presence Marketing/Dynamic Presence. A national company with over 400 employees that specializes in brokering environmentally conscious products. He is also on the executive board of Jewish Child and Family Service.
When Milton Zimmerman was 11 months old, his mother was institutionalized and his father, not having family in Chicago for support, turned to JCB. They took Milt in their care and placed him in loving homes. It was in these homes that Milt learned about family, friendship and compassion for others.
Most of Milton's childhood was spent in the Springer household. He conveyed happy memories of holidays, camp, family trips, spending time with his "siblings," and of the extraordinary bond he had with Dr. Springer. (Milt's son is Jack Morris after his "dad" Morris Springer.) He also spoke about his special Sunday outings with his biological father. Without fail, each Sunday, no matter where Milt was living, Zoltan would take him to ball games, the beach or other fun destinations.
But there were difficult times, too. He often felt discounted when spending time with the Springer extended family. He remembers Hanukkah,when each Springer child received a large generous gift and he something small and insignificant. There were times the kids at school treated him unkindly knowing, because of his last name, that he wasn't really a Springer.
Luckily, JCB was there to help. Each week he would be driven downtown, either by a family member or a JCB appointed chaperone to meet with his therapist. These trips downtown to the JCB office he refers to as "adventures," recalling one with a special chaperone who had a "cool" car and bought him popcorn and candy from Garretts Popcorn Shop. It was in these counseling sessions that Milt was able to work on his anger and subdue "the storm that brewed within". He credits JCB with helping him navigate his course, giving him a chance for a healthy childhood, which, he says, helped him become a serene and successful adult.
In 2010, Milt made a New Year's resolution -- This was the year he was going to give back to JCB.
After some research, he learned that the JCB was now JCFS Chicago and they were looking for dynamic and philanthropic people to be on their board. Milt was interviewed and by unanimous vote, was elected to the board of directors of JCFS Chicago. "I am motivated to help others who are enduring circumstances similar to my own by contributing my time and resources to JCFS Chicago," he said.
Milt shared that if it were not for the auspices of JCB, he is not sure where he would be today. "The JCB provided me with a home when I needed shelter, a family when I needed love and counseling when I needed someone to talk to."
Today, Milt lives with his family just blocks from where he lived with the Springer family. Dr. and Mrs. Springer have passed on, as well as his father Zoltan, but his siblings David, Zahava and Eliot are still part of his family and he theirs.