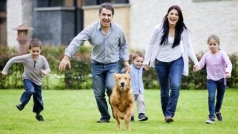 Life presents challenging situations, whether it's raising a family, searching for a job, locating an appropriate social activity for a child or adult with a disability, coping with the advanced illness of a loved one or facing an unexpected financial or emotional crisis. JCFS Chicago helps children, couples and adults develop positive strategies and solutions to these challenges while strengthening connections to their families and communities.
JCFS Chicago brings its programs and services to people where they live, work, worship and learn, making it that much easier for people to access and benefit from its expertise and resources and those of its affiliate, JVS Career & Employment.
Encompass, a JCFS Chicago program, creates partnerships with existing providers to help adults with Intellectual and/or Developmental Disabilities (I/DD) lead satisfying lives and engage in their communities through friendships, events, activities and employment. A recent collaboration between Encompass and JVS Career & Employment resulted in a Customized Employment service for individuals with I/DD – an incredibly important step in expanding their vocational and employment opportunities. "This means that adults with disabilities have options beyond day programs and sheltered workshops, settings that are often not engaging and which do not meet their individual needs," said Jodi Newmark, Encompass Director. Supported by a grant from JUF's Breakthrough Fund, JVS Career & Employment staff received training in a flexible blend of strategies, services and supports designed to increase employment options for job seekers who need a more individualized approach to finding employment.
How many people can say that their first day on the job was "the happiest day of my life?" One Jewish woman said exactly those words after being hired at a north suburban synagogue. The first person to get a job through the Customized Employment program, the woman and her family credit Encompass and JVS Career & Employment employment specialists for making her dream of a successful job experience a reality. Encompass staff are currently focusing on the woman's residential and social needs; JVS Career & Employment is providing job coaching and support services.
"It just makes good sense for Encompass and JVS Career & Employment to work together in the area of customized employment for those individuals in the Jewish community who have I/DD and wish to find a job," said Helene Levine, JVS Career & Employment's Manager of Work Place Services. "Both agencies believe in a holistic approach when delivering services to their clients and know that traditional employment service models such as finding a job from newspaper want ads, job postings or online career ads are most often not effective."
JCFS Chicago is also reaching out into the broader Jewish community to deepen its relationships with synagogues and raise greater awareness of its programs and services. Synagogue Community Partnership, an innovative JCFS Chicago initiative that was successfully piloted with congregations in Oak Park and River Forest, is now being replicated in Naperville and Chicago's Lakeview neighborhood. JCFS Chicago is working in coordination with Anshe Emet Synagogue, Temple Sholom and Anshe Sholom B'nai Israel, all located on the city's northside, as well as Congregation Beth Shalom in Naperville. 
On-the-ground JCFS Chicago Liaisons like Ann Luban, who serves as the Lakeview Liaison, gather input from clergy, congregational staff and lay leaders to identify the optimum way for JCFS Chicago to build a supportive structure that connects their congregants and the broader area Jewish population to the extensive range of JCFS Chicago expertise as well as to other resource areas. "By putting down a strong, visible JCFS Chicago footprint we can simultaneously offer proactive prevention programming and effectively address the needs of individuals and families," said Amy Rubin, JCFS Chicago Senior Director of Community Services.
JCARES (Jewish Community Abuse Resources, Education and Solutions) has engaged Orthodox Jewish Day School administrators, teachers, staff, parents and students in education and training about healthy relationships and handling unsafe behavior situations. The Partnership for Safer Schools Initiative is a multi-year, child abuse prevention program that JCARES has facilitated in day schools affiliated with the Associated Talmud Torah (ATT) system.
In their first year of participating in the program, JCARES staff works with school administrators, educators and staff providing education and training around child abuse prevention and response. Additionally, administrators are supported as they craft abuse related school-specific policies and protocols. In the second year of the program, student education is introduced.  Students in Kindergarten through 5th grade engage in Safety Kid curriculum that was developed by Magen Yeladim International in Los Angeles.
The curriculum approaches "safety" from a wide perspective that includes the more talked about things such as "call 9-1-1" and safe kind of touching in order to normalize abuse prevention.  Students learn the  A-B-C-Ds of Safety: Ask for Help (in the case of an emergency or if you are lost); Bring a friend (it's always safer to travel with a buddy); Check first (before answering the door or phone, accepting a gift, or changing a plan); and Do Tell (if someone touches you or tells you something in a way that makes you uncomfortable).
"Over 900 students have participated in the program to date," said Jessica Schaffer, Safer Communities Project Coordinator, "with an additional 400 students scheduled to participate in early 2015."
The Partnership for Safer Schools Program has been implemented in a total of eight Associated Talmud Torah (ATT) schools. The hope is to continue to expand include all ATT schools and beyond.  Accomplishing this goal would result in close to 2,000 children benefiting from receiving crucial education that increases their ability to keep safe.
In an effort to better serve the nearby communities of Vernon Hills, Buffalo Grove, Lincolnshire, Deerfield, Wheeling and Palatine, JCFS Chicago just relocated from Arlington Heights to Buffalo Grove in January, expanding its services into new communities. "Our staff of professionally trained and licensed clinical social workers,counselors, psychologists, art and drama therapists will continue to specialize in high quality therapeutic services for children, adults, couples and families," said Edward Reed, Director of Counseling Centers at JCFS Chicago. In addition to Buffalo Grove, there are seven additional Counseling Centers, including downtown Chicago, Peterson Park, Skokie, Northbrook and two offices in West Rogers Park.
For more information about JCFS Chicago programs and services visit online at jcfs.org or call 855.275.5237(888.ASK.JCFS).
For more information about JVS Career & Employment programs and services visit online at jvschicago.org or call 855.463.6587(855.INFO.JVS).
Photo Credit: thinkstock