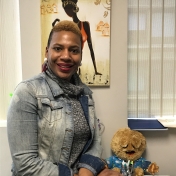 Linda joined the JCFS team in 2005, initially as a therapist in the System of Care program. Her role expanded over the years as Intensive Placement Services added programs for adoption preservation and Emergency Foster Care. Linda has also supervised the intake team. Recently, she was promoted to Assistant Director of Intake and Foster Parent Support. 
Linda is excited to continue fostering connections with youth in care and their caregivers, something she has been an active part of since coming to the agency. She hopes to bring a new energy to the JCFS Chicago foster care team. "Everything I do, I put in 100% and I always make time for one more thing. People wonder about how I have so much energy," says Linda.
She also operates a catering business, teaches aerobics, is planning her upcoming wedding, and still makes time to shoe shop. Linda loves to travel, especially to New Orleans, and has a passion for jazz music. She credits her mother with teaching her to stay strong and never give up.