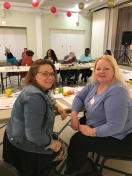 May is National Foster Care Month, a time to recognize that we each can play a part in enhancing the lives of children and youth in our care, especially Jewish Child & Family Services (JCFS) foster parents and staff.  Children in foster care have been affected by trauma, and offering a stable, supported, loving home is crucial to helping these kids thrive and build resiliency, as stated by a JCFS foster parent, "It's magical to do healing work."
JCFS understands that foster parenting is unique, and we provide the necessary support our parents need for themselves as well as the children in their care. Our child welfare team recently hosted the Spring 2018 Foster Parent College for 16 new and long-time JCFS foster parents, including one person who has been fostering with the agency since 1997.
The day-long event provided our foster parents the opportunity to share their journeys, support one another and find ways to build appreciation for foster parents. It was also a day of learning through educational workshops and collaborative group sessions. One participant explained her role as a foster parent, "It's an opportunity to give back to the community."
Separately, JCFS foster kids took part in a Life Skills group at the Ray and Joan Kroc Corps Community Center where they engaged with members of "Whole Time Chi" to learn about making safe choices, explored career ideas and had some fun with musical activities. A local illustrator and comic book artist from the Beverly Arts Center, Ricardo Gonzalez, led a graphic art group aimed to inspire the pursuit of personal interests, and make known the educational pathways to fulfilling life-long dreams. For the older kids, this event was an opportunity to engage in conversations about their future, and to provide some guidance as they leave the child welfare system and become young adults. 
"I find it personally fulfilling to provide support to foster parents who are helping kids heal and are working to maintain healthy parent/child relationships. It helps me appreciate the basic things in life I take for granted," said Larisa Banike, Coordinator of Family Development at JCFS. "Seeing our kids succeed and heal is one of the most rewarding parts of my job."
Already know you want to become a JCFS Foster Parent, or would like more information? 
Please complete an inquiry form and a member of our Foster Care team will be in touch shortly, or contact Marc Bermann, 312.673.2755. 
Generous funding for this program is provided by Colonel Stanley R. McNeil Foundation, Bank of America, N.A., Trustee and Elinor and Maynard Marks Family Fund of The Chicago Community Trust Leo S. Guthman Fund