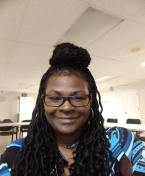 Ms. Seals has been a JCFS Chicago foster parent for about 5 years.  She frequently attends foster parent trainings and is a member of the JCFS Foster Parent Advisory Board.  She initially started fostering to care for her grandchildren.  She supported their safe and successful return home, but wasn't sure she would keep fostering.  She spoke with JCFS staff, thought and prayed about what to do.  She decided to continue fostering.  "I have all this learning. I like kids and I am all by myself," she said. 
Ms. Seals shares that the best part of fostering is helping specialized children through hard times.  Her children come talk to her and she can help them, when sometimes they "shut out" other people.  The hardest part for Ms. Seals is seeing kids cry when they can't see or spend time with their family.  "I feel sad too," she says. 
Ms. Seals is active in helping her kids develop relationships with their family.  She helped her foster son find his siblings by working with her team.  They traveled quite far to visit with his siblings--"The expression on his face made me feel joy!"  Ms. Seals is working with her current JCFS team to help her foster daughter find a brother she has never met.  She is reaching out to her child's extended family members to help find other family too. 
Ms. Seals has this advice for other foster parents, "I know it's hard sometimes to take in kids, but it's good to let kids in. Treat them like you would your own. These kids need love and to be taken care of."  Ms. Seals also shares that it's important to work closely with your support team.