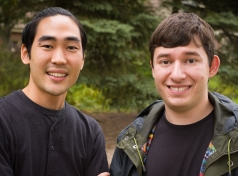 Meaningful relationships are an essential part of life and those regular connections with others can have a positive impact on health and happiness. However, adults with intellectual/developmental disabilities (IDD) often feel isolated from their community or have difficulty building friendships. Recreation and leisure activities, particularly those that foster social bonds and friendships, are critical to support the quality of life in people with disabilities.
Even when living independently or with minimal support they may have limited ability to access activities that would naturally help them establish relationships outside of their family. Some people need help fitting into certain settings and others may need someone to facilitate their involvement.
In July 2017, JCFS launched Community Connections, a program that helps adults with IDD build friendships and socialize with others in their community. Currently, twenty-five adults have attended social activities happening in the community with the support of Yuto Kanii, the program's Community Builder, as well as other social gatherings organized by their peers. Yuto says, "I encourage our participants to explore new things so they can discover their own special talents and interests. With our help, they also gain the skills and confidence to build their own social networks."
Yuto works with each participant individually to identify their interests and skills, and connects them to a wide variety of social opportunities taking place throughout the Chicagoland area. They can attend independently, with friends or with Yuto's support. Activities include movie outings, gatherings to watch sporting events, artists getting together to play music, draw and talk about their art, and game day at the Vernon Hills Public Library.
In fact, Jon, who has been a participant since November says his favorite part of Community Connections is playing Monopoly at the library. Jon adds, "It has helped me gain skills in initiating fun activities for all of us to do, like playing laser tag and watching movies. It has encouraged me to stay engaged in conversations. I look forward to meeting more new friends through Community Connections. It has helped me become more mature and independent in my social life."
With our help, people with disabilities have opportunities to build skills that will help them expand their interests, meet new people and develop friendships that have a positive impact on their health and happiness. We work to make our community inclusive and accessible for all.
The JCFS family of services works to strengthen lives throughout our community. Your generous gift allows us to continue helping over 30,000 people in the Chicago area each year. Contributions of any amount are impactful and appreciated, as they support a wide range of programs, and will go to help others like Jon. Thanks so much for joining with us in this work.