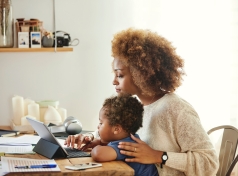 Sarah, a 44 year old mother of two, is finding herself back in the job market after 15 years, as she and her husband begin the divorce process.  The prospect of finding a full time job in a very different job market than the one she knew, and concern for how the children will cope with the changes, has her feeling anxious and overwhelmed.   And, with 53 percent of marriages ending in divorce in 2012 according to the Centers for Disease Control, Sarah is not alone.
"When the challenges seem insurmountable, it's important to try and break things down into small, manageable pieces.  Sometimes writing down the steps that need to be taken can be helpful," says Tami Sollo, LCSW, Director of the new Divorce Specialty Center: Family Redefined, at JCFS Chicago.  "Learning how to prioritize is going to be an essential tool to help navigate this new chapter in a family's life."
JCFS Chicago's Divorce Specialty Center: Family Redefined was created to help families successfully navigate separation, divorce, co-parenting and re-marriage.  Through this new divorce specialty center, Divorce Consultation will be available to answer questions such as "What now?" "Is this normal?" "Can you help?" Individual and family counseling will support and strengthen families as they navigate difficult transitions and cope with feelings of depression, anxiety or other mental health challenges. Group or one-on-one therapy will be available to support children process powerful feelings. Mediators will help establish healthy co-parenting relationships. Case management will help struggling families access financial assistance, career counseling, housing, legal assistance and other concrete help.
"There are all types of shifts going on during divorce or separation," says Sollo. "There can be grieving at the loss of a relationship, accompanied by many physical changes:  new living arrangements, shifts in childcare patterns and daily schedules."  There can also be a significant decrease in household income. According to the National Bureau on Economic Research, family income of children whose parents divorce and remain divorced for at least six years falls by 40 to 45%, which means parents who may have been staying at home to care for children, are now finding themselves back in the workforce.
"Stay at home moms or dads attempting to return to the workforce after a significant time off will find a very different job market.   And while taking care of a family and a household offers many transferable skills that are relevant outside the home, today's buyer's market allows employers to pick from hundreds of qualified candidates," says  Linda Wolfe, Director of Career Development and Placement, Career Moves at JVS Career & Employment. "Getting something on your resume is key; volunteering, externships and internships and finding opportunities in a small family run business offers an entry back into work. Its baby steps; first a job, then the career."
Along with going back to work comes evaluating what kind of child care and after school programs are available, all the while being sensitive to any emotional needs that may come up.  "Sometimes a newly single parent is so overwhelmed by all of the responsibilities around them, particularly if going back to work and they have children, that they forget that they also have to take care of themselves," says Sollo.  "It could be as simple as allowing themselves time to take a bubble bath; or going for counseling to talk with an uninvolved person about the many changes.  This is especially important if the kids are having problems or if they are having a hard time managing feelings of depression and anxiety," Sollo adds. "Simply getting a babysitter and taking a minute to connect with friends or nurturing oneself can make a difference."
"Everyone may need help at some point, with all the many things that go into this transition.  It could be needing help to find a job, coping with depression, adjusting to a new home environment, concern about changes in children's behavior, working out a custody plan, a need for financial counseling… all of these are typical concerns and reactions to going through the level of stress that can accompany this significant life transition," says Sollo.  The new Divorce Specialty Center at JCFS, is here to help.
For information on Adult, Child and Family Therapy at JCFS Chicago, including specialty services relating to divorce, visit jcfs.org or call toll-free 855-ASK-JCFS (855.275.5237) or email ask@jcfs.org.
For information on how Career Moves at JVS Career & Employment can help you negotiate this changing job market and help you find a career path that aligns with your values and skills, visit JVSChicago.org.
Photo credit:  Ran Zwigenberg on Flickr