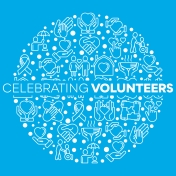 Our volunteers are an essential part of helping us execute our mission to help strengthen the lives of children, adults and families. During National Volunteer Week, April 7 -13, 2019, we'd like to take a moment to thank our volunteers for donating their time and talents to helping JCFS Chicago redefine what's possible in our community and beyond. 
Established in 1974, National Volunteer Week is sponsored by the Points of Light Institute which encourages and organizes volunteerism to help tackle society's greatest challenges, build stronger communities and transform the world. 
Contact Joshua Rosen for more information about volunteering and mitzvah opportunities.
---
The JCFS Chicago Associates Board
The JCFS Chicago Associates Board is a dedicated and enthusiastic group of young professionals that are passionate about promoting the work of JCFS through advocacy, leadership development, fundraising, volunteerism, and service projects. The Board also hopes to act as ambassadors, encouraging younger generations to become more involved with JCFS. "We believe in the importance of social service and giving back to the community. We are proud to become ambassadors for the next generation of JCFS leaders and are excited to share everything we have in store," says co-chair Karly Worth.
JCFS TDS Volunteers
The JCFS TDS school community would like to thank all the many volunteers who've spent their time giving back to us over the years. We'd like to start by introducing you to one of our most beloved volunteers who happens to come in a pair. Sue and therapy dog Sparky visit TDS twice a week to ensure each classroom and all students have ample time together. Outside of their regular schedule, time is also made for unscheduled visits to students requiring extra support. Our students (and staff) light up when Sue and Sparky enter the hallway. Sparky's irresistable love and endless hugs works magic at providing calm energy.
Response Advisory Council
Response for Teens is grateful to our Response Advisory Council (RAC) volunteers for their support, leadership and passion about our work with adolescent populations. As advisors and ambassadors, council members spend time getting to know and understand Response for Teens' important work in their respective communities so that they can better share information with friends, neighbors, community leaders, school faculty and personnel, synagogue and church groups, funders, and other stakeholders.
HIAS Immigration & Citizenship
Dan Boyer is a United Nations consultant and HIAS Immigration & Citizenship volunteer. During the week he works to evaluate UNICEF's programming worldwide and connect children living in emergency situations to critical education opportunities. Prior to his work at the UN, Dan taught middle school on the Navajo Nation and in Washington D.C. As a HIAS volunteer, Dan works to help prepare clients for the US Citizenship test through small group classes and mock interviews and serves on the HIAS' Scholarship Committee. Dan was drawn to HIAS after speaking with refugees who noted the organization's wide array of valuable services and deep commitment to supporting them. He is personally motivated by a desire to meet and learn from others and a strong conviction that all should be warmly welcomed.
North Shore Auxiliary
Celebrating its 100th year, the North Shore Auxiliary (NSA) has devoted itself to supporting the comprehensive spectrum of services and pioneering programs JCFS Chicago provides. Year after year, this group of women spend their time and energy decorating, catering and hosting our Therapeutic Day School (TDS) graduation reception, as well as providing our TDS high school students with a monthly pizza and donut lunch that they also beautifully decorate.The women also help support JCFS Chicago's Respite program that provides care for families with a dependent who has a disability or chronic illness and the Highland Park High School Connections program that provides students with mental health services. In addition, the NSA hosts our bi-annual Key Card event, staff development programs and a wide range of support services. We are extremely grateful and thankful to the women of North Shore Auxiliary - they are truly an essential part of helping JCFS Chicago strengthen and transform the lives of children, adults and families.