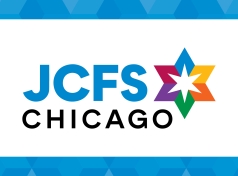 Over the last several years, JCFS has made adjustments to our foster care program based on the ever-changing needs of children and families and our ability to operate at a level that ensures quality services for all. However, despite our best efforts, we have not succeeded in affecting meaningful and lasting change. Following many months of in-depth discussion, JCFS has given notice to DCFS that we will be discontinuing our Foster Care program by the end of 2021. We are aware of how this choice impacts the children and families we work with, yet we feel we are ultimately upholding our mission of helping, healing and caring for our community.
Since 1893, JCFS Chicago has been caring for children and families in need of connections and healing through an array of child welfare services. This includes our foster care program, which provides specialized care for children with pronounced emotional, behavioral, and complex medical needs, striving to keep them in safe, nurturing homes until they can be reunited with their biological families or placed in another permanent home.
This change is not a departure from our partnership with DCFS, we are shifting our focus to the pronounced need for services that many children and families require for preservation and stability. Moving forward, JCFS will concentrate on our strengths and continue to serve the children and families in the Illinois foster care system through four clinical child welfare programs. By focusing our expertise on the clinical supports we can offer through Intensive Placement Stabilization Services, Maintaining Adoption Connections, Early Childhood Court Team, and Emergency Foster Care Mobile Response we will remain a strong part of the community dedicated to the safety and well-being of children in Chicago.
We will work alongside DCFS as they identify area agencies to take on the children and families from the JCFS foster care program. A carefully designed plan will guide the work with each child and family, providing support and connection for children, biological parents, and foster parents.
In the 160 years of our agency's history we've seen countless programmatic changes, each intended to better position us to meet community needs, to allow us to grow and shift. Each member of the Foster Care team has chosen to dedicate their days and nights to supporting children and families. And for that, we will be ever-grateful.