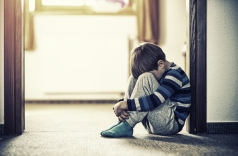 Samantha L. Spolter, MSW, Safer Communities Coordinator
Right now, families are sheltering at home, and spending unprecedented amounts of time together. Anxiety about health, education, and finances are high. Children are not physically in school and are not interacting in the usual ways with teachers, counselors, and other trusted adults who would normally raise concerns about their well-being and address red flags. Fewer calls reporting child abuse have been received since the outbreak, but that does not mean there is a decrease in abuse. In fact, the Covid-19 pandemic has created the conditions for a rise in child abuse that may go unchecked. 
According to a New York Times article written by Dr. Nina Agrawal, a child abuse pediatrician and an assistant professor of pediatrics at Columbia University Medical Center: "When there is household dysfunction - domestic violence, parental substance abuse or mental disorder - the risk of child abuse goes up, and there's a reason to believe all of these things will increase during this pandemic. New York is seeing an uptick in domestic violence. Suicide hotline calls are up around the country. For as long as we are confined to our homes, many parents who are struggling with these issues will no longer have any reprieve from the hard work of keeping children fed, entertained, and educated." 
Children may also be at risk of sexual violence. An estimated one in four girls, and 1 in 6-7 boys are sexually abused by age 18, and the abuse is typically from a family member in the home. With the lack of current opportunities to leave the home combined with the difficulty of finding new housing during a financial crisis, it makes it even less likely that young victims will be able to escape their abusers. 
As we bring this issue to the forefront, we have the opportunity to help children that might otherwise receive assistance from their teachers, guidance counselors, and day care providers. Teachers are trained to see physical signs of abuse and recognize red flags. In the absence of these advocates interacting with kids on a regular basis, a new kind of advocate such as neighbors and friends become even more important than ever. If you are concerned about a particular family, you can help by doing small acts of kindness that may alleviate some stress. Acts of support, whether in the form of an offer to deliver food, coloring books, or to lend a listening ear, can make a huge difference to a stressed-out parent. If concerns are more serious, it is okay to ask a parent, or a child, if they need help.  
This pandemic will also allow us to use new tools to ensure that children are safe. As the online platform of communicating has become part of daily lives, we can also make use of technology for virtual check-ins. A quick FaceTime chat can help one look for signs of distress, and, if need be, you can video the abuse and screen shot abusive text messages. It is also important to remember that anyone can report concerns to child protective services. Social distancing does not have to mean emotional distancing. With the absence of teachers and other individuals usually in a child's life, it is important for us all to now, more than ever, keep an eye out on those around us, to be the protective eyes and ears of children.
For further information on protective factors or other strategies to keep children safe, please contact me at SamanthaSpolter@jcfs.org or at 847.745.5430 or contact these additional resources in our community.  
If you are feeling particularly stressed during these times, please don't wait to reach out for help.  Call JCFS at 855.275.5237 to speak with one of our clinicians.  If you are in crisis, call 800.273.8255 or text 741741 - 24 hours a day / 7 days a week.