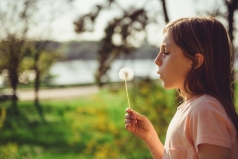 By Alissa Rotblatt, LCSW
The word "Hinaynee" is our fun, summer twist on the Hebrew "hineni." Hineni's meaning is closely tied to the English phrase, 'Here I Am'. The Hinaynee Group starts each week with the words "Here I am feeling…," providing an opportunity to check-in with ourselves and with those around us. For seven weeks during the summer, we take our Hinaynee Groups outdoors, asking children what it feels like to sit in the grass, reflecting on the tastes of fresh fruits, and setting the stage for a turn inwards towards creativity, connectedness, and calm. Pausing in this way can prove quite difficult. Children, like adults, are not immune to the rush and strain of a busy mind in a busy world.
The Hinaynee Group was created to address the stressors that children face in their daily lives and to promote increased emotional regulation, social development, and resiliency. Hinaynee Group therapists recognize the connection between a child's inner life and the ways she relates to others. When children feel secure and at ease, they can venture out into the world, explore, and create meaningful friendships.
The effort towards building greater awareness and deeper connections is a vision of our summer group series, but this vision is not restricted to the therapeutic group space. It can be fostered in friendships and in families, at home and in our communities. There is no better time than summer to encourage emotional growth in our children. As we hit pause on the effort towards academic performance from early June through late August, we encourage the shift in attention towards the emotional needs of childhood: play, exploration, and nourishment. We believe that summer holds the potential for healing. The world blooms and heats up around us, offering the chance to find our own breath among the summer rhythm.
How We Foster Emotional Growth:
An important task of childhood is mastering the ability to hold people and ideas in mind. As children see that they can keep loved ones with them when they go to school, or to a neighbor's yard, or to sleep at night, they can afford to explore the world around them. Along with people, ideas also have the potential to stick in the mind. In our Hinaynee group we work to arm children with "sticky" ideas that they can carry with them into their homes, schools, and friendships. These ideas help children learn how to calm themselves if upset or frustrated, how to manage disappointment, and how to face fear. Armed with these ideas, children start to notice the connections between their bodies and minds, and see that they have the power to use their own minds to create new experiences. 
Below you'll find some of our "stickiest" idea that can be practiced at home.
Safe Place

During the safe place activity, we lay out paper, pencils, paints, and glue sticks and ask each member of the group to imagine a place where she feels safe. Our prompts will conjure up each child's safe space in all of its details: What does it look like? How does it smell? What sounds do you hear when you are there? Children will use materials and art supplies to create their safe space, bringing it to life on paper and in their minds so that, during rockier times, they can hold onto this memory and its feeling of calm.

 

Breath and Mindfulness

Each week we will incorporate fun and easy to remember mindfulness activities into our group sessions. Practicing mindfulness gives us a chance to slow down, and experience the present moment. Mindfulness comes in any different shapes and sizes. Many mindfulness activities can be practiced together as a family such as walking through the woods and noticing plants, animals, and feel of your feet touching the earth. Mindfulness is effective when it becomes a "practice," an experience that can be remembered and relied on when needed. Find what works for your family and incorporate it into the daily routine.

Noticing Changes and Naming Feelings

Throughout each of our Hinaynee sessions we encourage "feelings literacy." This is a term we use to describe the ability to name feelings, to understand the differences between them, and to start to make sense of the reactions that different feelings produce within us. We encourage you to sit with your child and talk through the different bodily reactions that feelings produce. Draw them out together, connecting words with facial expressions and bodily reactions. For example: anger can make us red in the face, raise our voices, and send our heartbeats into over drive.
While our summer groups are already in full swing, please contact Alissa Rotblatt at 773.467.3769 if you are interested in having your child participate in one of our future group sessions.