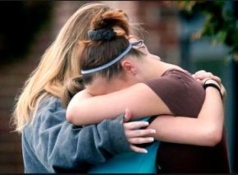 by Robin Stein, Director, Response for Teens at JCFS Chicago
As a therapist who has worked with teens almost exclusively for over 30 years, I can't help but imagine what it must be like to be a teenager in 2015. With so many young lives cut short today due to violence, bullying and suicide—dealing with the fear, the sense of loss, the uncertainty.  Grief work with adolescents is so incredibly important.  Often, parents immediately react by telling their child they must be in counseling – they just know their child must be depressed and at risk of imploding. 
At Response for Teens, a program of JCFS Chicago that helps adolescents develop their communication, decision-making and leadership skills to better deal with life's challenges, we are often in the position of working with well-meaning parents who need support around allowing their child to grieve in their own way and time.  Immediate "intervention" is not always the most appropriate answer.  It's best if a young person can come to this place, if they choose, in their own time frame.  Meanwhile, parents, friends, teachers, religious institutions can be powerful soulmates for teens, accompanying them on this painful journey.
At age 14 my world collapsed when my maternal grandmother died.  My mom worked part time and so "Grandma Mac" was very much my mother figure during those formative years.  I was terrified, angry and felt entirely alone in the world.  I internalized all of those feelings and grieved extensively for what seemed like an eternity.  Along with the internalized feelings of constant grief, I also began acting out, taking risks, rejecting expectations and attempting to find meaning in the world.  I would return home from school and call out her name, only to realize (anew) that she wasn't there.  Her absence in my daily life was excruciating.  
On the outside, I often looked just fine but on the inside, I was crumbling. Looking back, I think I was fearful of placing too much of my own grief onto my parents and siblings; always protective of others.  At that time in my development, I feel certain I would have rejected any attempts at solace from my parents for, of course, they were "the enemy!"  
Adolescent grief is, indeed, a complicated and different animal.  Denial, even compartmentalized, can be a powerful tool to get us through those dark times.  Peers can actually help us move through the grief, offering their kindness, understanding and compassion.  I know my circle of friends supported me and helped me keep my grandmother's memory alive as they were also very connected to Grandma Mac, having special memories of their own.  
For more information about Response for Teens programs and services, visit responsecenter.org or call 855.275.5237 (855.ASK.JCFS).