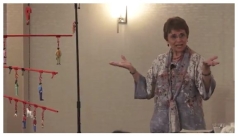 BY ELIZABETH COHEN, LCSW, FT, MANAGER,

ILLNESS, LOSS AND SPIRITUAL SUPPORT

AT JCFS CHICAGO, BEREAVEMENT SPECIALIST
Few things impact a family more than the death of one of its members. For many families, the loss of a loved one can lead to a heightening of old conflicts creating stress and strife. At a time of deep pain, family members often feel they cannot turn to each other for solace. But, it is also possible for families to grow together through the experience of loss.
The illness, loss and spiritual support at JCFS Chicago and The Lauri S. Bauer Foundation for Sudden Loss presented the 5th Annual Conference on Help, Healing and Hope after Loss on May 18, 2017. The conference brought together more than one hundred individuals, families, mental health practitioners and clergy who gained support from each other, and learned ways to better navigate the mourning process.
Featured speaker Janice Nadeau PhD, spoke about Grief and the Family: Finding Balance after Loss. Dr. Nadeau is a psychologist and former hospice nurse who has spent over 30 years working with families through end of life issues and loss. She presented with a deep sense of compassion and humor, reminding us of the deep humanity and growth that can come from dealing with loss. Watch the video from 5th Annual Conference on Help, Healing and Hope after Loss.
Dr. Nadeau explains that each family member experiences their loss differently, but as a unit they can learn to survive the loss, and actually thrive and grow closer. Dr. Nadeau experienced the death of her husband and adult daughter in the same year, making her an especially empathic helper. She focuses on grief and the family utilizing a unique teaching tool, her Nadeau Family Mobile TM. This three-dimensional mobile is a visual representation of the family as a system and the impact of loss on the entire system.
Illness, loss and spiritual support provides a continuum of programs and services that embrace the comfort of human connection, the spiritual support of Jewish tradition and a sense of community to alleviate loneliness and isolation. A program of JCFS Chicago, illness, loss and spiritual support works in collaboration with the Chicago Board of Rabbis and CJE SeniorLife.
For more information contact Elizabeth Cohen at 847.745.5404