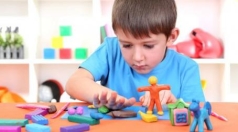 The holidays are upon us, and everyone wants to find the perfect gift for the child on their list. Not sure where to start?
Ingrid Kenron, Occupational Therapist with Integrated Pediatric Therapies at JCFS Chicago, recommends these classic toys because they help kids enhance their fine and gross motor skills, boost speech and language, develop social skills--and are just plain fun!
One great toy that therapists often use is the Fisher Price Laugh and Learn Piggy Bank. At about seven months old, babies can use this toy to practice placing coins in the slot and opening the door.  After children learn to stand, it is a nice tool to practice trunk control and squatting.  Children can pick up coins from the floor. Then, they can return to stand to place the coins in the bank that is rested on a chair, low level table, or couch. Toddlers can practice counting as well as identifying colors and animals on the coins. 
Another popular item among therapists is Play-Doh. Play-Doh can be used in a variety of ways. Encourage children to open and close the lids for finger strengthening. When working at a table, spread materials out so children have to reach in different directions, and cross the midline or center of their body. Use tools such as cookie cutters, a rolling pin, or a plastic fork and knife to develop hand strength and bilateral coordination. Play-Doh can also be a fun way to practice forming letters or numbers. Play-Doh also helps spark a child's imagination and pretend play skills.
Continue to expose children as they get older to toys and games. In addition to being a healthy leisure activity, games can help children continue to develop their skills.  Perfection is a favorite, classic game that children about five to nine years old often get excited to play. Therapists love it because it works on shape recognition, speed and accuracy, and eye-hand coordination, and finger isolation.  Blokus is another great game, played with 2-4 players.  Older school aged children and adults alike often enjoy playing Blokus. The idea of the game is to place as many of your pieces on the game board and block your opponents at the same time. Blokus works on planning, turn taking, visual perception and fine motor skills.  
MagneticSchul is designed to engage young children in ritual synagogue life. Each kit consists of the self-contained box and magnets. The box has a handle to help children carry it and when opened children find a backdrop of the sanctuary. Children use the over fifty magnets to tell the story of their synagogue experience and their surroundings.
This is a fun learning activity for children of all ages. It is educational and helps children not only tell the story of their synagogue experience but can help prepare them for upcoming events, expand their vocabulary and work on fine motor skills. Children can easily carry the box between environments as a transition object or you can try turning it into a visual schedule.  
For additional gift suggestions, contact IngridKenron@jcfs.org or visit Love that Max:  Special Needs Blog.  Another great resource for families, teachers and professionals is ToyBox Tools, a collection of visual tools and playtime activities created in collaboration between Hasbro and The Autism Project. 
Connect to all of our programs and services for children and families! 
Call 855.ASK.JCFS (855.275.5237), email ask@jcfs.org or visit us online at jcfs.org