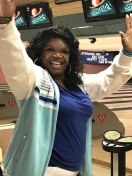 Meet Carolyn, a member of JCFS Chicago's Foster Parent Advisory Board and a specialized medical foster parent caring for two sisters, ages 3 and 7 months.
Carolyn has been a licensed foster parent for three years, but has been raising children for much longer.  As the oldest in her family, Carolyn helped her grandmother raise her younger siblings and knew she was going to take care of people when she grew up. She further found her calling when she helped her husband raise his own kids and grandkids. After he passed, she wasn't sure what was next for her. She knew, however, that "kids don't have to be yours for you to love them." 
One day at a local store, she struck up a conversation with a woman who was a foster parent, leading to Carolyn inquiring about becoming one herself. Three months after getting her license through JCFS, Carolyn fostered a premature baby girl with specialized medical needs and received the necessary support through JCFS foster care services. 
Carolyn does a lot to help the girls she fosters stay connected to their biological family, especially their siblings and birth parents. After attending a JCFS Foster Parent College workshop about Lifebooks, Carolyn started using the books with the girls to help them keep track of their history, achievements and important relationships. She says the biggest challenge she has experienced is reassuring biological parents she is there to help them too. She feels it's very important to let the child see you working with their parents toward a shared goal of a safe and loving home.
Watching kids blossom is the most rewarding part of foster parenting for Carolyn. "You can see the work you put into them as they strive to be better adults. Children can grow up to be great and have self-esteem despite the challenges they faced." 
Already know you want to become a JCFS Foster Parent, or would like more information?
Please complete an inquiry form and a member of our Foster Care team will be in touch shortly, or contact Marc Bermann, 312.673.2755.