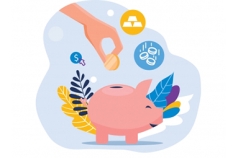 Are you or someone you know unable to make your next rent payment, worried about how to pay your next utility bill or unsure where your next meal is coming from? We have emergency funds available and are here to help. Our Financial Assistance and Counseling program is prepared to ensure quick access to emergency financial support. Call 855.275.5237.
Unfortunately, we're seeing a big financial impact from this public health crisis. Many people have been laid off or furloughed and investors have seen their portfolios reduced. So, what does this mean for you? Here are some steps you can take.
1. Apply for benefits as soon as possible. If you are unemployed, a part-time worker or self employed, you are now eligible for unemployment benefits. Apply for SNAP for help getting food. A few companies are currently trying to fill positions, such as grocery and big box stores, and some chain restaurants.
2. Budget. To start, assess all of your accounts – checking, savings, and investments. Make a list of monthly expenses so you can manage your resources while looking for work.
3. Negotiate your bills. Check with your creditors, like your landlord or utility company, to see if they'll work with you on a payment plan. It's worth asking for a little help.
4. Start Saving. Now If you got a tax return, put it in savings. While you're staying home, find ways to decrease your spending.
5. Bring in Extra Income. Make some money on the side by exploring work from home opportunities. Check out delivery or transportation companies for additional income.
If you need help, contact JCFS Chicago by calling 855.275.5237 to make an appointment with a financial counselor.