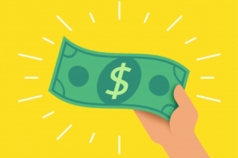 The pandemic has impacted all of our lives, and for some people this has meant unemployment and an unexpected financial hardship. With support from JUF, our Financial Assistance Counseling program has been able to provide emergency funds to those that need it.
Ms. G.
Ms. G first reached out to JCFS Chicago when her income was significantly reduced by the pandemic restrictions. Prior to COVID-19, she had earned a stable income by a providing emergency daycare services in her home-based care center. Thinking she would be back to work within a month or two, she contacted her mortgage holder to negotiate a deferral on her payments. The company agreed to postpone three months of payments but then made them all due by July 1, on top of her regular monthly mortgage payment.
Through our financial assistance program, JCFS was able to help Ms. G with her mortgage, preventing the start of the foreclosure process. Ms. G's financial counselor also connected her with housing resources that were able to help negotiate a more manageable agreement that placed the delayed payments at the end of her mortgage. In addition, her counselor was able to connect Ms. G with food and health care along with employment services to help stabilize her career and income. With both financial help and guidance from JCFS, Ms. G is feeling safe and stable again.
Effected by COVID-19
A mother and her two young adult were living comfortably before COVID-19 effected the world and their lives. The mother was employed as a contracted home care worker, without employer provided benefits and both of her sons worked at an airport. Her sons were able to help with household expenses, including the mortgage. The family was referred to the JCFS Chicago Financial Counseling program by another agency when all three family members were hospitalized for COVID-19 and unable to work. Eventually, the mother and one of her sons were released from the hospital, even though both still had debilitating symptoms including pneumonia. Her second son did not survive.
JCFS was able to provide financial assistance to make sure their mortgage did not go into default. A housing specialist helped the mom contact the mortgage company and formalize a payment deferment. Her financial counselor also provided the family with money for food, as both the mother and her son needed a special diet for recovery and since being released from the hospital three weeks prior, still had no food at home. Referred to CJE Senior Life for care management and benefits review, she was enrolled in a local community-based grocery delivery program and received additional funds so she and her son could attend medical appointments without taking public transportation. The household is still struggling with the illness but is stable and can focus on getting well without fear of losing their home.
Family Stability
An Orthodox Jewish family living on Chicago's north side faced unexpected financial hardship when the pandemic effected both parents' incomes and brought the entire family of nine back under one roof. The three eldest children went to school in New York, but were sent home due to COVID-19, and the four younger children usually attend Jewish day schools in Chicago. The family's income had been stable from the father's work in the kosher food industry along with his wife's in-home daycare center. When the pandemic restrictions were put in place, their income was significantly reduced. The family was able to pay rent for a few months but was struggling to make ends meet once their savings ran out. With all seven children at home their SNAP benefit helped, but it was just not enough.
With the help of JCFS Chicago's financial assistance program and a financial counselor, the family was provided with emergency funds to pay rent for a few months and a guarantee from the landlord that they would not be evicted if the household income had not yet recovered. They were also able to pay off overdue utility bills and receive additional food support. A small transportation fund ensured their child receiving JCFS counseling services would not miss appointments when telehealth was no longer in place. By providing for rent, food and utilities, the family is able to remain stable until their incomes return to pre-pandemic levels.
If you or someone you know is need of financial assistance, contact JCFS Chicago at 855.275.5237 to make an appointment with a financial counselor.