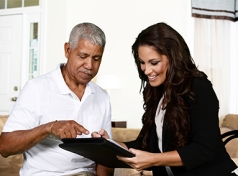 In the early days of the COVID-19 pandemic, there was a lot of uncertainty and confusion as the situation dragged on. Many businesses shuttered, drying up steady paychecks and leading to widespread job loss.
With significant support from JUF, the JCFS Financial Assistance Counseling program provided emergency funds to those that needed it. First, we broadened eligibility for the program to aid as many as possible. Next, once our financial counselors learned each client's expenses, income, and skills, we would help if assistance was considered feasible.
As the world started to get back to a state of relative normalcy, our priorities shifted from financial assistance to financial counseling; giving our people the tools they needed to rethink their approach toward money matters and work towards self-sufficiency.
Our financial counselors collaborated one-on-one with each client to dissect their financial decisions, discuss the motivations behind each decision, and steer them towards a more cautious approach to their money.
"It was about finding the thinking behind the money and having difficult conversations about how to change their mindset," says Maureen Grey, JCFS Financial Counselor. "Once that mindset starts to shift, we decide on next steps to obtain and maintain financial security."
Samantha* first reached out to JCFS when their income was significantly affected by the pandemic restrictions on businesses. Prior to COVID-19, Samantha had earned a stable income and thought she would be back to work within a month or two. As an initial step, she contacted her mortgage company to negotiate deferred payments. The company agreed to postpone three months of payments but then made them all due by the end of that period, on top of the regular monthly payment.
Through our financial assistance program, JCFS was able to help Samantha with her mortgage, preventing the start of the foreclosure process. Our financial counselors also connected her with housing resources to negotiate a more manageable agreement that added the delayed payments to the end of the mortgage. To help stabilize her income, the counselor set Samantha up with employment services, along with food and health care. The financial assistance and guidance from JCFS helped Samantha feel safe and stable again, while our counseling gave her the tools to maintain financial health.
*Name changed for confidentiality