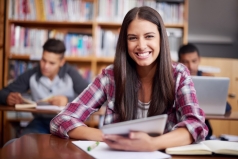 The Jewish Federation of Metropolitan Chicago Is Pleased to Announce the Everett Kovler Scholarship Program
Through the generosity of the Kovler Family Foundation, two $10,000 scholarships will be awarded to Jewish high school seniors who enroll in a four-year undergraduate program in the fall of 2020. Each scholarship is renewable every year, contributing a total of $40,000 over the course of the four years of study.
The Kovler Scholarship eligibility requirements are:
Academic excellence as demonstrated by a B average and SAT/ACT scores
Financial need documented by parents' 2018 and 2019 tax returns and the Student Aid Report (SAR), generated by completion of a FREE application for Federal Student Aid (FAFSA)
Intended enrollment in a four-year accredited full-time college program
Student must have been born and/or raised in the Chicago metropolitan area
Preference is given to students with concentrations in math or business
One personal and one academic reference
The deadline for applications is March 1, 2020!
To verify your eligibility and to request a scholarship application, contact the Kovler Scholarship Coordinator by calling 312.673.3444 or emailing jvskovler@jvschicago.org.
Everett Kovler was a business executive and philanthropist who devoted his entire retirement (nearly three decades) to philanthropic pursuits, including raising guide dogs for the blind and managing the Kovler Family Foundation.
Read Dani Friend and Kira Kessler, two recipients of the Kovler Family Scholarship, discuss how the Scholarship transformed their lives and prepared them for future success.