Dance/Movement Therapy: A Healing Art
By: Shawna L. Solsvig, M.A., LPC, R-DMT, GL-CMA
Doctoral Clinical Psychology Extern, Psychological Services
Dance is the hidden language of the soul. The body says what words cannot.
–Martha Graham
The art of dance boasts a rich, multicultural past. Dance has been used as a form of communication and entertainment, and as a way of bonding and expressing emotions. The use of dance in ceremonies, celebrations and rituals, and the evolution of dance to promote healing are well-documented.
Dance/movement therapy
At the intersection of science and art resides the ever-evolving field of dance/movement therapy. Dance/movement therapy uses body-language and non-verbal communication to support growth. Many people have heard of traditional talk therapy, or psychotherapy. Dance/movement therapy is a form of psychotherapy that, in addition to talking, values and incorporates the organic and authentic movement, or "dance" of an individual.
According to the American Dance Therapy Association (ADTA), dance/movement therapy (DMT) is the psychotherapeutic use of movement to further the emotional, cognitive, physical and social integration of the individual. What does that mean?!
At the core of DMT is the belief that the way we feel and the way we move are interconnected. DMT strives to bridge the psychological and physical experiences of an individual because a change in one impacts the other.
DMT is one of the many creative arts therapies. Creative arts therapies combine art modalities and creative processes with talk therapy for the purpose of increasing self-awareness and facilitating healing. DMT is facilitated by a dance/movement therapist.
What is a dance/movement therapist?
A dance/movement therapist is a licensed, master's level mental health clinician, who focuses on the correlation between motion and emotion, recognizing movement as a way of communicating and expressing.
What does a DMT session look like?
Although DMT has roots in modern dance, since the 1940s it has been used in a variety of settings with various populations. Specifically, DMT emerged from work with patients in mental health facilities. Today, DMT has expanded and is offered in many environments.
Each DMT session is unique. A DMT session is structured based on setting, style of the dance/movement therapist, and the desires, needs and abilities of the individual. Some common components and possible reasons for incorporating them into a DMT group session may include:
The formation of a circle, in order to facilitate visual and non-verbal connections and security.
The use of mirroring to reflect and demonstrate empathic understanding,
Repetitive and/or rhythmical movements to provide structure, increase body awareness, and/or provide a shared experience, and/or offering props, to support socialization and interactions.
Regardless of the style, a dance/movement therapist is continually adjusting themes, symbols and content.
Watch a video of an individual DMT session facilitated at Mattel Children's Hospital UCLA by clinical psychologist and dance/movement therapist Dr. Lori Baudino.
The ADTA lists the following settings as some of the sites that offer DMT:
mental health
rehabilitation
medical
educational
forensic
nursing homes
day care centers
disease prevention
health promotion programs
private practice
Dance versus DMT: What's the difference?
Many people associate the word "dance" with codified, choreographed steps strung together to create a movement sequence. Historically, dance in ancient and indigenous cultures was a part of life, including healing. So what's the difference between dance and DMT?
Susan Imus, Chair of the Creative Arts Therapies program at Columbia College Chicago, dance/movement therapist, and certified movement analyst, has delineated between dance as therapeutic, and dance as therapy. Below is a visual image of the continuum Imus created to explain dance versus DMT.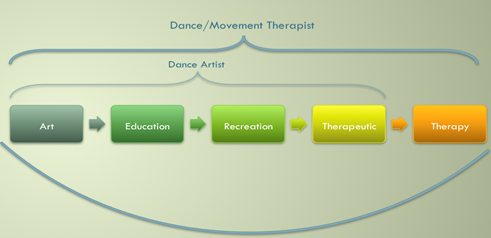 Photo credit and design: Susan Imus
Imus explains that dance/movement therapists, "use dance and movement to foster health, communication, and expression [to] promote the integration of physical, emotional, cognitive and social functioning, enhance self-awareness, and facilitate change."
She goes on to say that, "dance teachers take a directive approach, while dance/movement therapists clinically intervene using a patient's personal movement repertoire."
And that, "unscripted dance and movement are the dance/movement therapist's assessment and intervention tools to aid in addressing an individual's health objectives." Imus further states that the years of training and clinical supervision a dance/movement therapist undergoes uniquely prepares them to "responsibly handle almost any bio-psycho-social situation that may surface during the dance making and dance creation process."
To learn more, watch The Difference Between "Therapeutic" Dance and Dance/Movement Therapy
Research today suggests that between 55% and 80% of communication is non-verbal. DMT embraces the non-verbal component of dance to integrate and heal the body, mind, and soul.
Although the goals of DMT are to meet the needs of an individual, DMT also tends:
To foster a physically and emotionally safe, non-judgmental environment that is respectful of individual limitations and achievements
To facilitate individual expression and communication with other people
To increase body awareness, spontaneity, creativity and a healthy self-image
To promote and integrate emotional stability (for example, anger management and stress reduction)
How does DMT help heal?
DMT utilizes movement through observation, assessment, research and intervention to inform healing. A dance/movement therapist focuses on helping an individual increase self-understanding and enhance communication skills. Research has shown DMT to be especially effective in decreasing anxiety and boosting mood. Additionally, research shows DMT may be effective in the treatment of a number of physical, social, cognitive and emotional areas, such as arthritis
autism
cancer
cardiovascular disease
depression
dementia
disordered eating
post-traumatic stress disorder
self-esteem
Is DMT for me?
DMT meets diverse needs, and can be beneficial to anyone facing life challenges. No previous dance skills required!
Want to learn more? Check out these sites.
JCFS Chicago Can Help!
JCFS Chicago offers individual, couple, family and group counseling services. For more information call JCFS at 855.275.5237 or visit jcfs.org
References
American Dance Therapy Association (2017). Retrieved from https://adta.org/
Cass, J. (1993). Dancing through history. Upper Saddle, NJ: Prentice Hall, Inc.
Haze, N. & Stromsted, T. (1994). An interview with Janet Adler. American Journal of Dance Therapy, 16(2), 81-90.
Hurst, S. (2014 June 23) Dance/movement therapy: Analayzing body language. [Video file] Retrieved from https://www.youtube.com/watch?v=iw9Y19oNHOw
Imus, S. (2015 July 25) Continuum of dance approaches [Online image]. Retrieved from https://adta.org/2015/07/25/the-difference-between-therapeutic-dance-and-dancemovement-therapy-an-adta-talk/
International Expressive Arts Therapies Association. Retrieved from http://www.ieata.org/
Levy, F. (1988). Dance/movement therapy: A healing art. Reston, VA: American Alliance for Health, Physical Education, Recreation and Dance.
Maury Jensen Enterprises, LLC. (Photographer). (1997, May). Living waters [photograph]. St. Peter, MN: Private Collection.
Mehrabian, A. (1972). Nonverbal communication. London: Aldine Transactions.
Horowitz, S. (2009). Healing in motion. Alternative and Complementary Therapies, 6 (2), 72-76. doi:10.1089/act.2000.6.72.
National Coalition of Creative Arts Therapy Association, Inc. (2017). Retrieved from http://www.nccata.org/
Photo Credit: Maury Jensen Enterprises, LLC