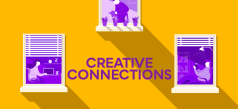 With a shift to social distancing and the need to stay at home, JCFS Chicago began offering virtual options just over a month ago. We adapted many of our services using technology to deliver care outside of the traditional face to face format most people are accustom to. Not only does the addition of these choices allow for the continuation of services while we all shelter in place, it also increases access to care for those with mobility issues.
There are many examples of how JCFS staff are continuing their work during this crisis. These circumstances have compelled people to find creative ways to support the well-being of those who depend on us.
During these extraordinary times, our counseling clinicians have transitioned their work to virtual options to meet the mental health needs of our clients as well as supporting new stress related to our current COVID-19 experiences. Most notably, our clinicians in our Community Counseling Centers, Psychological Services, Response for Teens, the Knapp School & Yeshiva, and our Child Welfare Team have been utilizing telebehavioral health to ensure continuity of care for our current clients, families and students. We recently expanded these services to see new clients as well. "This active transformation in these challenging times, is a true reflection of the caring, compassionate work of our staff," says Geneve Hein, Associate Vice President of Emotional Well-being.
Knapp School & Yeshiva teachers have created engaging assignments and alternatives for everyone to see each other as they work together. Many teachers use Zoom to initiate one on one instruction with individual or pairs of students to ensure that differentiation of content and instruction is maintained. "It's been an enormous challenge getting everyone access and full participation, but the teachers, with support from teaching assistants and support staff have successfully launched meaningful digital classrooms. After an adjustment period, everyone agrees that e-learning now just feels like learning," stated Maureen Gilligan, Director of Instruction and Assessment.
Actions that seem simple are happening daily and go a long way to make people feel connected. A Psychological Services clinician brought artwork and the fish tank from her office home so that when she meets with her clients, who are mostly kids, they see things which are familiar.
Family and Community Supports staff have been working patiently and supportively with Community Connections participants to set up Facetime so people can continue to make meaningful social connections.
Given the circumstances we are all in right now, Duman Opportunity Center staff are talking with clients about much more than employment issues, making sure they have what they need, including help filing for unemployment insurance, obtaining food, and boosting morale.
Using teletherapy has allowed Integrated Pediatric Therapies staff to participate in a family's morning meeting – a great opportunity to provide guidance and intervention during real time family activities. Virtual backgrounds have been fun and engaging, with therapists transporting themselves to the fire station, Hawaii and even visiting a local university mascot.
JCFS staff have worked hard to be creative and innovative so we can stay connected while we are all apart. "Never before has it been so clear how critical our services are to our community, and by adapting our services during this uncertain time, people are continuing to get the expert, caring help they need," said Stacey Shor, Vice President and Chief Operating Officer.