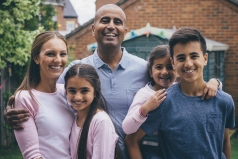 JCFS Chicago is excited to reveal the redesigned HIAS Immigration & Citizenship website. "It is important that information about immigration legal services be clear and accurate, and that folks know they can access support at HIAS at any time. We are thrilled about our new website, and proud to assist Chicagoland's diverse immigrant community," said Jessica Schaffer, Director of  HIAS Immigration & Citizenship.
For over a century, HIAS Immigration & Citizenship has been one of the most respected providers of immigration services in the Chicago metropolitan area. Their long history of dedication and service continues, as they help people in need from around the world reunite with family members and settle in their community, find stability and raise their children with a sense of belonging their new country.
Visit JCFS.org/hias for more information.