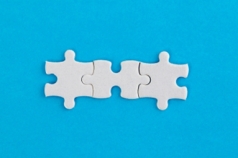 April is National Autism Awareness Month (NAAM), and for nearly 50 years has been a time to raise awareness and acceptance. This year is unique. COVID-19 has disrupted many aspects of our daily lives, which can be particularly difficult for children who have autism. For their families, there are many questions. How can I maintain routine at home with school closures? How do I ensure my child is getting the services they need?
Though this is a time of uncertainty, NAAM represents a perfect time to be thoughtful of this community's needs. JCFS Chicago remains dedicated to supporting children with autism and their families.
Our therapists will be providing video and phone services whenever possible to children who are currently receiving pediatric therapies and new clients. "We are connecting with our clients via teletherapy and phone calls to support families, and to maintain a schedule and presence with children," said Jennie Marble, Director of Integrated Pediatric Therapies. "This helps our clients keep routine as much as possible, but also allows the children to continue to make regular progress on the skills we are working on."
Looking for more ideas of how to maintain routine at home with your children? Our new Facebook group, Redefine What's Possible at Home is a great resource. Our team of JCFS professionals, including social workers, psychologists, early childhood specialists and speech-language pathologists will be providing story hours, creative activities and enrichment activities as well as support and guidance for parents and caregivers.
We know that social distancing can lead to a sense of isolation or increased anxiety, so we have added a warm line to provide assistance for people in the Chicagoland area whose need is not urgent and just looking to talk to someone about their emotional distress. Call us between 9am and 5pm Monday thru Thursday, 9amand 4pm Fridays at 855.275.5237 to connect to a chaplain or emotional support professional.
Stay up to date with all the ways we are supporting people with autism and all of those we serve during NAAM by following our social media accounts and keeping up with our newsletters.