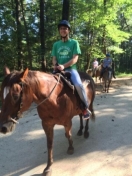 by Miles Allan, Firefly Camper
I attended Camp Firefly every summer since 2010.  After six years of going to camp, it's safe to say that it was the best experience of my life. I don't really think there was a second of camp that I didn't enjoy. Everything about it was amazing; from the great friends I've made to the fun camp activities. It was an unforgettable experience, to say the least.
When I first heard of this camp, I was hesitant to go. However, after my first year of camp, I realized that these campers and I had something in common: we all had a disability. It was awesome because I could relate to everything they were going through. After an enjoyable first year of camp, I decided to come back a second year. My second year of camp was even better. We did amazing activities like horseback riding and rock wall climbing.  I was happy to see my old friends and make new ones too.   
The next three years of camp were a little bit different. Instead of being a young "Firefly Camper," I attended Firefly Teen Camp.   The great thing about being in Teen Camp is that I was now able to go on more field trips.  We visited the water park at Mount Olympus, went water tubing in Lake Delton and bowling.  It was extremely fun and I had the time of my life.
Last summer, I attended "Next Step" at Camp Firefly.  There I was able to spend 20 days at camp helping Camp Chi staff working in the horse stables as well as the health center.  Being a role model for the teen and firefly campers was truly an experience I will cherish forever.
I am now looking forward to attending Eastern Michigan University in the fall of 2016, where I plan to study statistical mathematics and computer science.  I'm excited to take the next step academically, but sadly, I will miss attending Camp Firefly this summer.  I plan to be very busy getting ready to go off to college.  I am so grateful for the opportunity to be a part of Camp Firefly.  It's something that holds a special place in my heart. I've met fantastic people at camp while having the time of my life. It's something that I will never forget for as long as I live. 
For more information about visit Camp Firefly.